One of the more frustrating aspects about iOS is the limited space and the massive space requirements needed for updating your device. More often than not, a 500MB update will require you to have at least 1GB of space free on your phone, if not more. This usually means that in order to stay up to date, users have to go through their apps and delete things only to re-download them once the update has completed.
However, in iOS 9 this whole process will be made a bit simpler. When the latest version of iOS hits consumers this September, it will now offer an 'allow app deletion' option if you run out of 'sufficient' space for the software update.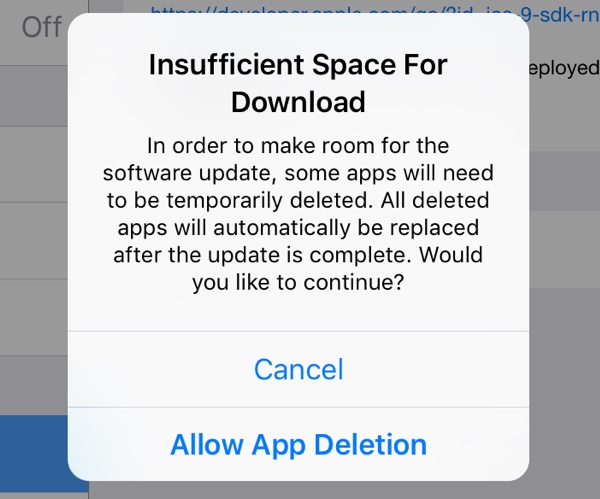 The new feature was discovered in the most recent iOS 9 beta update this week. In addition to that, Apple has been working on reducing the update size in general to try and alleviate this problem further, shrinking the iOS 9 install size down to 1.3Gb compared to iOS 8's 4.5GB size.
iOS 9 is currently in open beta with the launch expected to arrive in September alongside a new batch of iPhones and possibly iPads.
Discuss on our Facebook page, HERE.
KitGuru Says: iOS has some pretty particular space requirements for installing updates. While you may have enough space left on your phone to download an update, often Apple requires you to have more in order to install it. This temporary app deletion will be a welcome feature to those running a 16Gb iPhone or iPad.