Regular readers may remember that we gave away a high end £2,200 Devialet Phantom Gold speaker in recent months – and reader Manuel Lamh was the lucky winner choosen out of thousands of entrants. Unfortunately behind the scenes, it has been a bit of a disaster for him to get set up properly.
Manuel aimed to use the speaker with his new iMac 2017 as a monitor device and wanted to use the digital connector on the speaker to get maximum sound quality, especially when dealing with his large 24 bit FLAC recordings. After failing to get any sound output via the built in 3.5mm port on his brand new iMac it would appear that Apple have removed optical digital out through the headphone jack on many of their latest computers. Apparently the MacBook Pro laptops and the latest iMac have had the feature removed – Apple kept it pretty low key although we have heard they did this because they felt it was no longer needed by the target audience.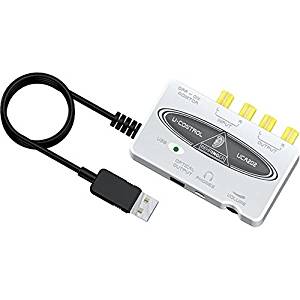 Depending on what you are attemping to do there are many boxes and converters you can buy and after a few false starts Manuel said that he bought the Behringer UCA202 U-Control Ultra low-latency 2 In/2 Out USB/Audio Interface from Amazon – which you can buy HERE. He said it was on offer for £24 at the time.

Manuel said it works a treat, and you just select the USB audio output from the sound control panel in MACOS. It also looks like the Behringer UCA222 would do exactly the same, and stock of it is available HERE.
Manuel said 'I don't know why Apple did away with the optical functionality of the 3.5mm connector, my older Mac computers all have it and its useful for hooking up 5.1 speaker systems and other optical audio devices. I know there are many fancy external boxes that can do the same thing, but I wanted a cheapish solution and one that definitely was 100% compatible with Apple and didn't need drivers and messy software installations. The Behringer UCA devices seem to work great and I can finally use the speaker I won from KitGuru now properly. Bluetooth and Airplay are fine, but I was getting a lot of audio pops when trying to play uncompressed files. With the UCA202 I can playback 24 bit 192Khz files direct to the Phantom Gold Speaker without any loss in quality which always happens when you stream over the air.'