Android 5.0 (or "Lollipop" as its known) has been out for over 3 months now and unfortunately despite the massive improvements over earlier version of Android, it is hardly managing to make a dent in the overall Android picture. Even the long since supported Android 2.3 "Gingerbread" has over four times the market share, despite being vulnerable to some major security exploits.
In fact the situation is probably even worse than this as Google does not collect any statistics from phones running versions of Android lower than version 2.2, but at least phones running version 2.2 only barely make an appearance on the chart with 0.4% of all phones. All versions of Android lower than 4.4 (roughly a billion devices) have recently been shown to have a security vulnerability that Google is not going to be fixing directly and is leaving up to OEM's to fix.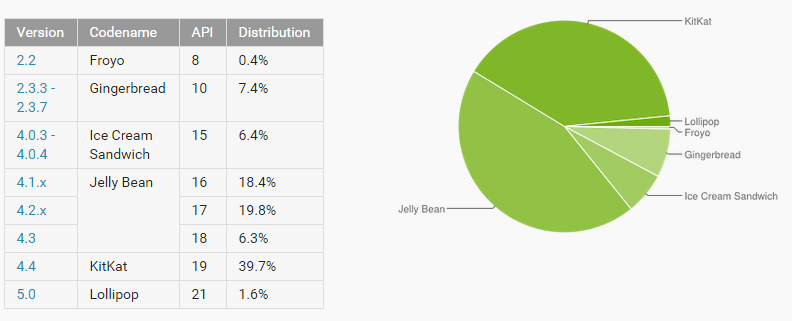 To compare this to iOS, Android's nearest mobile OS competition, today over 62% of all iOS users are using iOS 8 on their Apple devices (shortly after launch this was up to 56%) and only 3% run anything earlier than iOS 7. However this is probably partially due to the huge physical turnover of Apple hardware, with Apple fans regularly queuing up at their local Apple store to get the newest iPhone, which of course comes with the latest OS version.
This makes a massive difference for app developers in several ways, in both allowing them to always be able to target the majority of users by coding for the newest version of the OS, as well as forcing them to keep an up compatible and updated with the latest version of they want it to be used.
Discuss on our Facebook page, HERE.
KitGuru Says: While it is great that almost 40% of Android users are using a secure phone and I'm sure that includes most of us, the other 60% are using these totally insecure phones every day, for banking, email, work, etc. This is totally unacceptable and needs to be addressed by Google soon.
Source: Android Developer