Samsung pushed new ground with the Galaxy Note 9 last year, releasing the very first 1TB smartphone thanks to combined internal and expandable storage. Ahead of its Galaxy S10 release, the company has now announced the world's first 1TB embedded Universal Flash Storage (eUFS) 2.1 chip, allowing for internal smartphone storage to rival that of laptops and desktops.
It has taken Samsung just four years to get to this stage from its very first 128GB eUFS solution, with the new 1TB model reportedly able to store 260 10-minute, 4K UHD (3840×2160) videos instead of just 26 of the same size. Samsung also boasts that the transfer rate is double that of standard SATA solid state drives (SSDs), maxing at 1,000Mbps.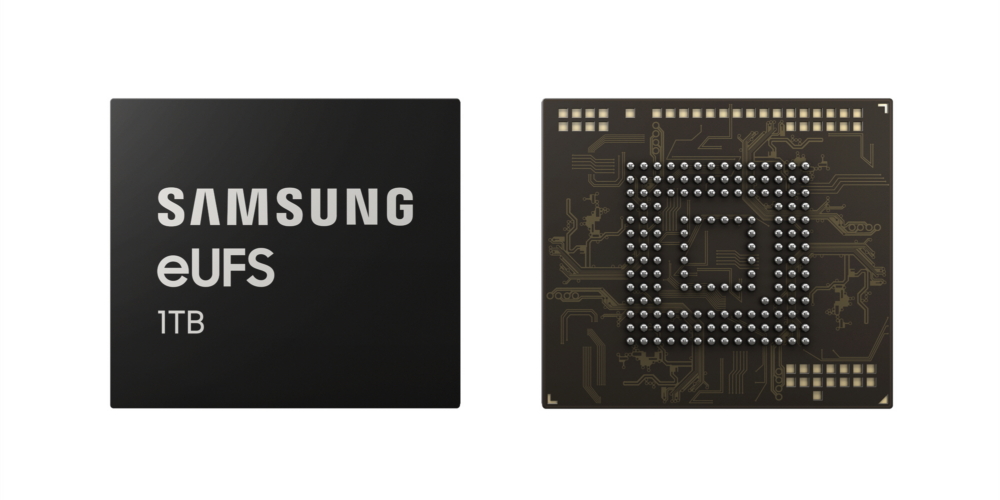 Samsung has managed to double the capacity and increase the random read speed of its 512GB version by 38%, yet retain the same package size in order to fit into current smartphones. These random speeds allow devices to continuously shoot at 960 frames-per-second, and "take full advantage of the multi-camera capabilities in today and tomorrow's flagship models."
"The 1TB eUFS is expected to play a critical role in bringing a more notebook-like user experience to the next generation of mobile devices," said Cheol Choi, executive vice president of Memory Sales & Marketing at Samsung Electronics. "What's more, Samsung is committed to assuring the most reliable supply chain and adequate production quantities to support the timely launches of upcoming flagship smartphones in accelerating growth of the global mobile market."
The South Korean company has already started mass producing the chip, although it's uncertain whether or not the 1TB eUFS will appear in the upcoming flagship Galaxy S10 despite recent rumours.
KitGuru Says: With how fast smartphone storage is increasing, the need for expandable storage is diminishing quite rapidly. This will help push towards better waterproofing with more sealing, however it's sure to cost a pretty penny.