As if news of one virtual reality update today wasn't exciting enough, Samsung and Oculus have come out with one of their own, announcing that a new version of its wireless Samsung Gear VR headset was now available, with the ability to support new mobile handsets. Alongside the Galaxy Note 4, it will now support the upcoming Galaxy S6 and S6 Edge as well.
Although not set for release until sometime in April, these phones will offer a comparable experience to the Note 4, with the same 2560 x 1440 pixel QHD resolution display. They will however expand the potential userbase for Gear VR, as the smartphone is the expensive part of its purchase. Whereas the headset is the part that Oculus Rift users felt most on their wallets, the Gear VR headset itself is comparably inexpensive.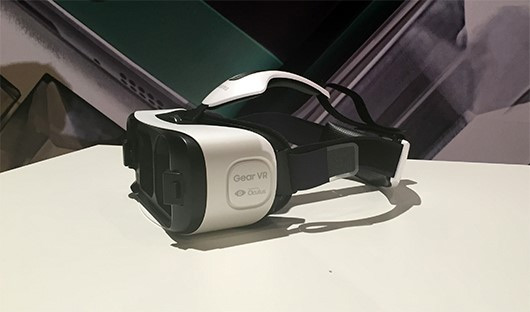 The new Innovator Edition has an improved strap system and ventilation to make it more comfortable over longer sessions
However the new headset should be a little lighter too and thanks to the denser displays on the newly supported smartphones, the VR worlds should look a little better too. Other improvements include better power consumption, though the battery is smaller than the Note 4's. To counter that, a new USB port has also been added, which lets you charge the phone while you use the headset.
Alongside this update, Oculus VR also announced that it would be updating the VR store late this month, providing a platform for developers and filmmakers to sell content through the official store. That will not only help expand the library of content for those with a range of virtual reality hardware, but will also help developers fund future efforts and developments.
Oculus itself is also planning the release of several VR movies to stream within the Oculus Cinema named: Lunar, Plot Device and Immersion.
All of this is capped off with the release of a new VR mobile SDK, version 0.4.3, which should improve performance stability and fix issues like yaw drift. Unity integration should also be easier than before, allowing developers to publish titles for the PC and mobile VR without difficulty.
Discuss on our Facebook page, HERE.
KitGuru Says: While the Gear VR might offer a higher resolution VR experience than the Rift at the moment, I'm still holding out for PC linked hardware. It's going to be more powerful in the long run.