Mobile phone coverage in the UK might be a lot better now than it was ten years ago, but if you don't live in one of the major cities, making sure your home have enough bars to receive and make calls is an important consideration. That's why OfCom has recently completed a large study to find out which are the best and worst mobile providers in the country in terms of call quality and reception. Which do you guys think came out on top?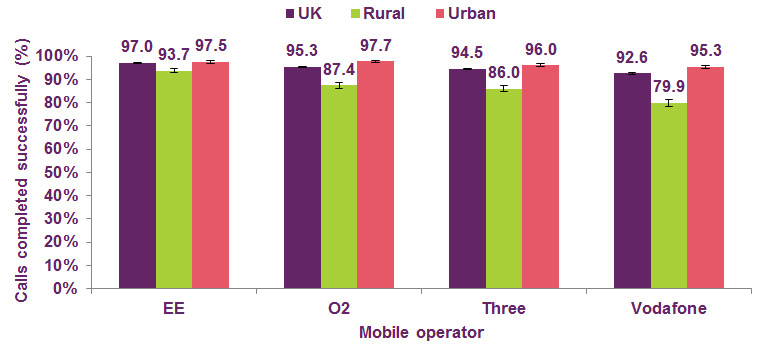 The network with the greatest coverage and the highest success rate overall, in rural and in urban areas, was Everything Everywhere (EE). Considering it is technically made up of two giant networks, Orange and T-Mobile, it's perhaps expected that it would come out on top. However it's interesting to note that Vodafone is by far and away the least effective mobile network, especially when it comes to rural areas, where it's success rate with calls dropped to under 80 per cent.
All networks managed to get over a 95 per cent success rate in urban areas, but everyone bar EE failed to break through the 90 per cent barrier in more remote regions.
It's impressive to note also, that Three performed very well, considering it's the smallest of the networks by some margin.
Ofcom's reason for the research was said to be in an attempt to highlight where improvements can be made: "Improving mobile quality of service for consumers is a priority area for Ofcom. Today's research is part of a plan to help support initiatives to improve mobile coverage in the UK, and provide consumers with quality information on mobile reception."
Ofcom previously released a list of plans it had to upgrade Britain's mobile infrastructure, including for near universal 4g coverage, improving existing 3g networks and making sure quality of service was bettered through more informed consumers, which is where research like this comes in.
Discuss on our Facebook page, HERE.
KitGuru Says: How does your mobile provider rank on the cart?