Mobile phone retailer Phones 4U has announced that due to the decision by both Everything Everywhere (EE) and Vodafone to no longer do business with it, that it has been forced to enter administration in order to protect its assets long enough to figure out if it's even possible to continue doing business in any way.
Problems started piling up for the long-standing retailer last week, when news came through that along with Vodafone, EE would also be stopping business with the company. According to a spokesperson for Phones 4U, this decision came out of nowhere, especially considering it still had a contract "with more than a year to run."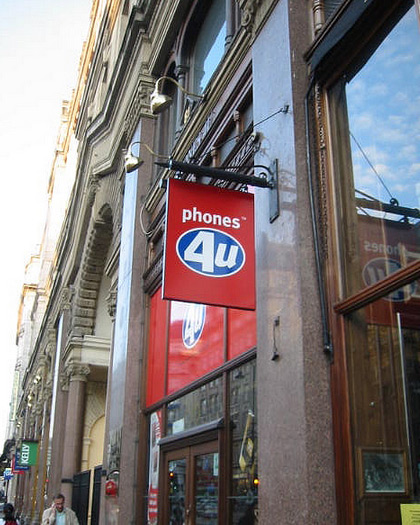 There was even the suggestions that Vodafone's similar decision was almost deliberate: "Vodafone has acted in exactly the opposite way to what they had consistently indicated to the management of Phones 4U over more than six months. Their behaviour appears to have been designed to inflict the maximum damage to their partner of 15 years, giving Phones 4U no time to develop commercial alternatives," said BC Partners' Stefano Curzio.
The only statement to come from Vodafone and EE, said that the move was "in line with our strategy to focus on growth in our direct channels," according to the BBC. If indeed, growing direct sales is the plan, it wouldn't be that hard to imagine both companies wanting to cripple Phones 4U, so it couldn't compete with them; as distasteful as that is.
Phones 4U currently employs almost 6,000 people out of over 550 outlets around the UK, all of which will be closed as of the end of Monday. Staff have however been asked to turn up for work as usual and will be given new instructions once there. The owner of the Phones 4U brand, private equity firm BC Partners, has promised to continue paying all staff members while the future of the brand is figured out.
Customers of the brand shouldn't be too affected, with any outstanding contracts set to be honoured in full. However, anyone that purchased a phone that hasn't had it dispatched yet is unlikely to receive it. For that, it's suggested that they get in touch with customer services.
Discuss on our Facebook page, HERE.
KitGuru Says: It must be a pretty awful day for staff. Here's hoping they're well taken care of, as there's nothing any of them could have done to avoid this.
Image source: Rachel Hinman