The character of New Zealand's prime minister, John Key, has once again been called into question, after internet entrepreneur, Kim Dotcom, announced that he had in his possession a copy of an email conversation between the CEO of Warner Bros and the MPAA's Mike Ellis, that discussed Mr Key allowing Dotcom to receive residence within New Zealand, so that he could then be extradited to the US and face criminal charges related to his Megaupload website.
This is part of the Moment of Truth big reveal that Dotcom has been teasing recently and plans to unveil more of at an event taking place this evening. Dated 27th October 2010, the email claims that the "groundwork in New Zealand is paying off," and that Key had made plans to allow Dotcom into the country, despite immigration not liking his criminal past. It's then alluded that he would soon be sent to the US on a "one way ticket to Virginia."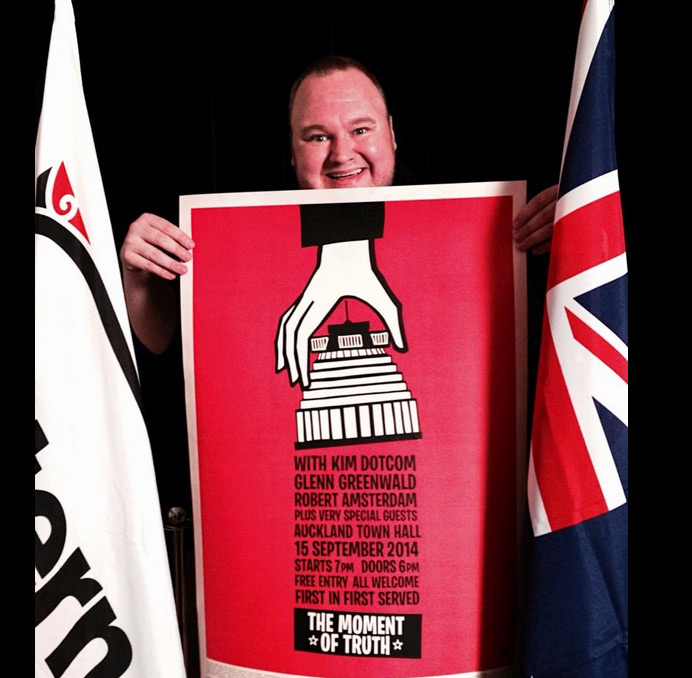 Mr Key for his part, has denied any knowledge of the emails and continues to suggest that he had never heard of Kim Dotcom until the 19th January 2012, one day before the raid took place on the Dotcom mansion.
"The conversation allegedly reported on in the email did not take place," he said (via NZHerald.) "People will see this for what it is."
His opposition in the Labour Party has called for all minutes and conversation logs between Mr Key and Warner Bros to be disclosed so that this issue can be looked into officially.
Lending some credence to the communiqué is the fact that it's dated around the time when John Key was taking part in negotiations surrounding The Hobbit movie franchise, which he was fighting to have filmed in New Zealand much like The Lord of the Rings trilogy. Warner Bros is the distributor for The Hobbit.
It is also dated around the time that Dotcom's immigration paperwork was going through. We know for a fact that the immigration services threw up a red flag during the process because he was at the time under investigation by the FBI. However, the agency was then said to be put under "political pressure", to allow him to be accepted as a resident.
If it is proven that Key had a hand in such shady dealings with other nations, it could really undermine his campaign for the general election in New Zealand, voting for which is set to take place in just five days time.
Discuss on our Facebook page, HERE.
KitGuru Says: It seems likely from the evidence we've seen so far that Key had something to do with the process of getting Dotcom into the country. Whether it was to get him extradited or not remains to be seen, but he doesn't appear entirely honest. It will be interesting to see what other information Dotcom and his friends have on the current – though perhaps not for long – New Zealand PM.