Aorus, a notebook gaming brand that belongs to Gigabyte Technology, introduced its most advanced gaming laptop computer yet at the Consumer Electronics Show 2015. The Aorus X5 notebook boasts two yet-unannounced GeForce GTX 965M graphics processing units as well as 15.6" ultra-high-definition (UHD) display with 4K resolution based on Sharp's IGZO technology.
The new Aorus X5 laptop is based on an unknown Intel Core i-series processor with DDR3 memory and a solid-state drive. The graphics sub-system of the new laptop is powered by two Nvidia GeForce GTX 965M graphics processing units which deliver 15 per cent more performance than Nvidia GeForce GTX 980M mobile graphics solution, according to manufacturer. At present Aorus does not reveal exact configurations of the system, but claims that it scores P12000 points in 3DMark11 Performance benchmark.
One of the key innovations of the Aorus X5 is its 15.6" display that is made by Sharp. The monitor uses an IGZO panel with 3840*2160 resolution, which makes the X5 laptop one of the industry's first notebooks with a 4K 15.6" screen. While the display delivers crystal-clear resolution, it should not consume more energy than standard 15.6" panels since IGZO technology promises to reduce power consumption compared to contemporary thin-film-transistor panels, such as TN, IPS or *VA.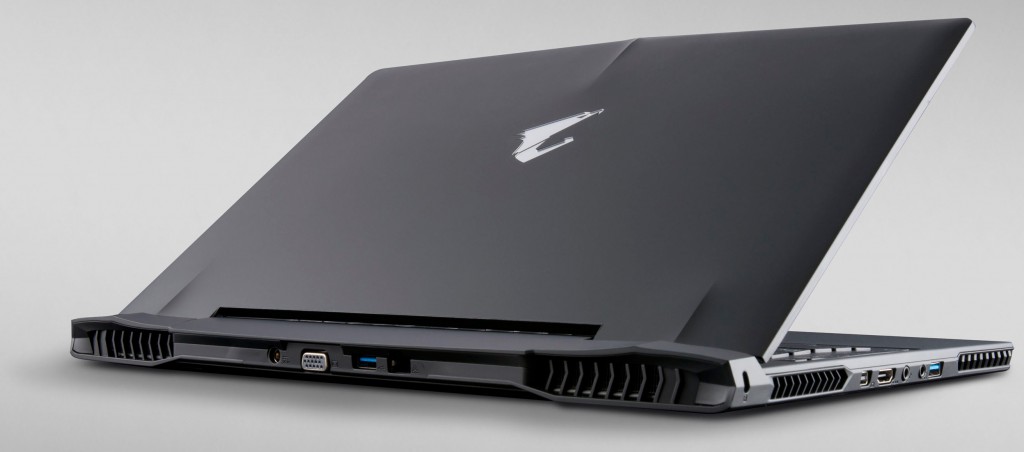 Although the laptop is clearly very powerful and employs two graphics processing units, it is not very thick (22.9mm) or heavy (2.5 kilograms). In fact, its weight and dimensions are similar to those of non-gaming laptops released several years ago.
Battery life of the laptop remains unknown. Moreover, it is unclear whether the laptop supports Nvidia Optimus dynamic graphics switching technology that is designed to switch off discrete GPUs when the laptop uses its battery power. Therefore, it is not clear whether it will be possible to use this notebook as a normal mobile PC for work on the go.
The Aorus X5 will be available in the second quarter of the year at a price-point between $2299 and $2799.
Discuss on our Facebook page, HERE.
KitGuru Says: The combination of high-performance graphics sub-system and a 4K UHD IGZO display is clearly something that should appeal to gamers. I am not sure whether 4K resolution is something you must have on a 15.6" monitor and how will Windows 8.1 look in this case, but in general, when it comes to resolution, the higher the better. If you are in the market for a relatively small form-factor gaming notebook, then the Aorus X5 is a machine to look at.