Although Samsung Electronics has cut its notebook shipments plans for the year and even has decided to withdraw from certain markets, the company does not give up its Chromebook initiative. This week the firm introduced a new family of Chromebooks that offer higher performance, increased productivity and stylish design.
Samsung Chromebook 2 family will include two models: with 11.6" and 13.3" displays featuring 1366*768 and 1920*1080 resolution, respectively. The laptops are based on eight-core Samsung Exynos 5 Octa system-on-chips and come with 4GB of DDR3L memory, 16GB NAND flash local storage, 720p webcam and so on. Just like other laptops, the new Chrome OS-based notebooks feature Wi-Fi, HDMI output, USB 3.0 connectors, memory card reader, speakers, microphone, etc. The new PCs will be available in April for $319 and $399, respectively.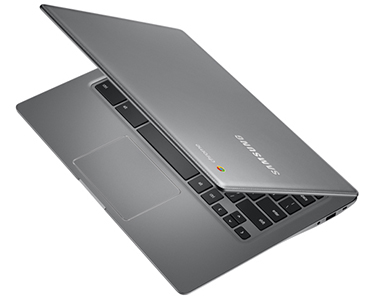 Like all computers based on Chrome OS, Samsung's Chromebooks 2 heavily rely on services and applications provided by Google. On the one hand, this means that the software is always up-to-date, on the other hand, this means dependence on connectivity. In a bid to differentiate its offerings from those of competitors, Samsung installed a package of premium apps worth more than $100, which includes smartphone access and data management service Air Droid Premium, task management and collaboration app Wunderlist Pro, and LittleBridge.com, an English learning app.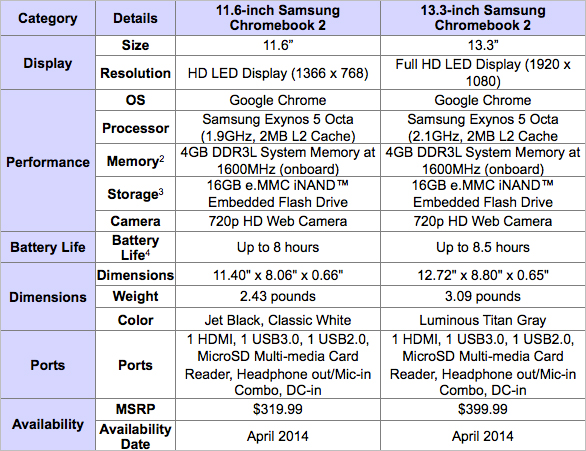 While priced affordably, the new Samsung Chromebook 2 models are as stylish as much more expensive expensive, high-end laptops. The slim body measures less than three-quarters of an inch thick, making it easy to slip into any bag. At just under 2.5 pounds for the 11.6" model, it is also easy to carry anywhere.
Samsung was the leading Chromebook brand in the U.S. in 2013, accounting for more than 60 percent of overall market share, according to NPD.
"Chromebooks are particularly important in the education space – according to Futuresource, one in four devices now sold into K-12 schools in the U.S. are Chromebooks – so we've designed our latest models with students and teachers in mind, including features like rapid start times, longer battery life and an easy-to-grip design," said Tod Pike, senior vice president at Samsung's enterprise business division.
KitGuru Says: While Chromebooks can hardly be considered as proper solutions for business and entertainment, their positioning as laptops for classrooms seems to be completely okay. On the other hand, if we are talking about low-end systems, why do they cost $320 – $400, which is comparable to the price of entry-level Windows-based laptops?