3DMark testing:
For this test, we ran the ROG Strix Hero II through Fire Strike, Fire Strike Ultra and Time Spy. In the graphs below you can see it compared against similar laptops. Even though they all have very similar specifications, slight variations in boost clock speeds caused by fluctuations in temperature have an impact on performance.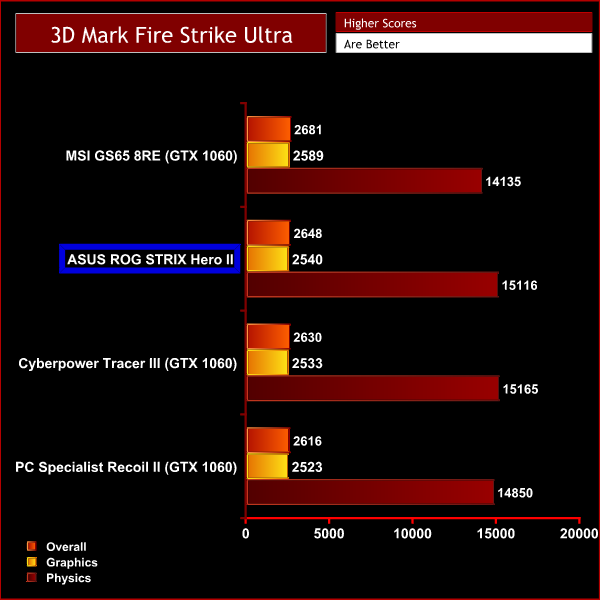 The results from the Fire Strike test saw the ROG STRIX Hero II sitting in last place with an overall score of 9821. The score differences aren't big, though, and we can see the Strix produce similar results to the other laptops when running Time Spy and Fire Strike Ultra as well.
Gaming performance:
We used the ROG Strix Hero II to play 3 different popular and graphically demanding games. We tested the games at their highest graphical settings with DX12 turned on and AA disabled. We then compared our findings to similar laptops.
Rise of the Tomb Raider is an action adventure game with many different environments and immersive landscapes making it a useful way to test this laptop's gaming performance.
Far Cry 5 is the most recent release we tested. The gigantic open world of Hope County has plenty of beautiful scenery to test how well this laptop performs with a newer game.
Tom Clancy's Ghost Recon Wildlands is a game with a superb open world environment. The beautiful scenery of mountains, forests and deserts requires a lot of GPU power to render, particularly on high settings. This demanding game is perfect for testing this PC's gaming performance.
When looking at our gaming figures, the results are a little mixed. The Hero II performed the best in Rise of the Tomb Raider and also edged ahead of two other laptops in Tom Clancy's Ghost Recon Wildlands – only to fall to behind in Far Cry 5.
Overall, though, there really isn't much in it and the ROG Hero II can certainly play the latest games on high settings. If you want to take advantage of the 144Hz screen though, you will have to sacrifice graphics quality to bump up the frame rate any higher than 60.
Bonus Game: 
As the Hero is aimed at gamers who play MOBAs we also tested how well it could run League of Legends. The graphics settings were set to Very High with AA disabled.
Even on Very High settings League of Legends isn't a hugely demanding game and the Hero II could easily maintain a high frame rate for the majority of gameplay.
It often sat at around 140fps taking full advantage of the 144Hz refresh rate display. These results show that the Hero II is a great option for playing less demanding MOBAs at a buttery smooth frame rate.