The Asus ROG HERO II certainly looks the part with its sleek chassis and flashy RGB lighting. The 15″ display and slim body makes this a very solid gaming laptop to be used on the go.
Unfortunately the battery life is about average for a gaming laptop but by changing the power profile you can get up to 6hrs of use when using Word or browsing the web – though it won't last that long if you are executing more demanding tasks.
The powerful components mean that it can provide good gaming performance and it can certainly take advantage of the 144Hz refresh rate display in less demanding games. The display itself looks great with its thin bezels, 3ms response time and IPS level colour accuracy. Paired with the loud and punchy speakers it creates a truly immersive experience.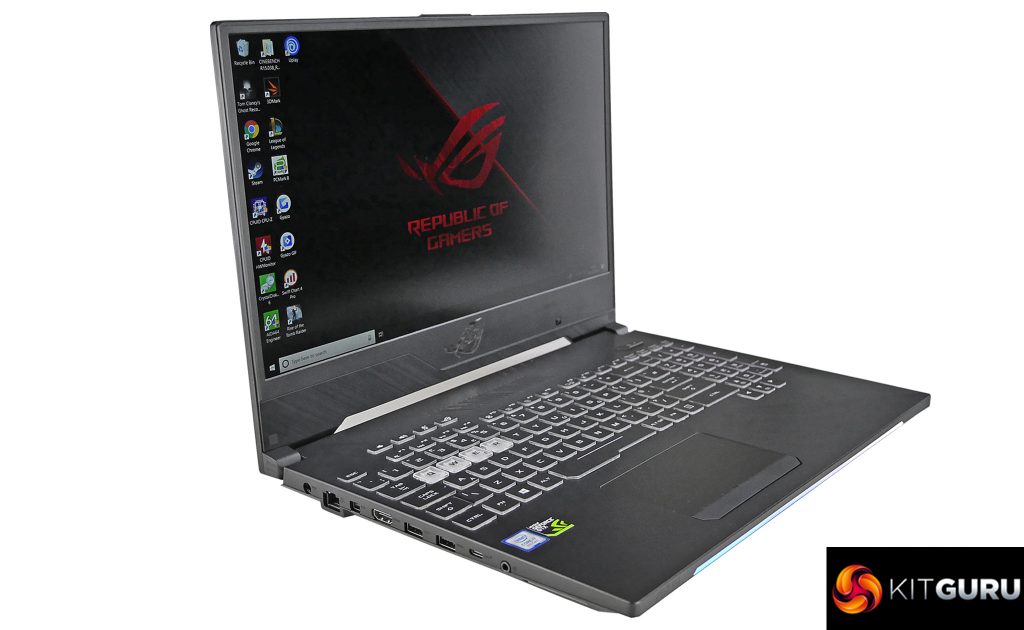 The CPU performance is one of the best we've seen from a laptop with the i7-8570H, which shows that Asus has done a good job with the cooling to keep the boost clock high for as long as possible. This is obviously good for those of you who want to do more CPU intensive tasks.
Elsewhere, the touchpad and keyboard are both a good size and provide a decent user experience, however we think there is still room for improvement. The webcam is the biggest let down with its awkward viewing angle and grainy appearance.
With a price tag of around £1800 it is certainly at the higher end for a laptop of this spec. However you do get an excellent screen, great sounding speakers and a beautiful looking well built laptop. We think there's still room for Asus to improve on the webcam, keyboard and touchpad side of things but we must admit that most gamers will use external peripherals anyway.

You can find the ASUS ROG Strix Hero II on sale HERE at OCUK.
Pros:
Great build quality and aesthetics.
144Hz IPS level display with thin bezels looks excellent.
Good speakers.
Well spaced full size keyboard and good sized touchpad.
Nice balance between power and portability.
Good performance.
Cons: 
Webcam is poor.
Key actuation is quite shallow and touchpad buttons feel clunky.
Battery life could be better.
KitGuru says: Overall the ASUS ROG Strix Hero II is a good option for gamers looking for a laptop that has the right balance between power and portability.