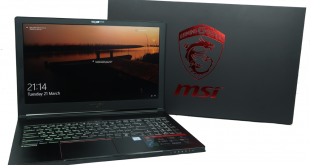 Today we look at the MSI GS63VR 7RF Stealth Pro a svelte super portable laptop which features an Ultra HD 4k panel, Core i7 7700HQ processor, 256GB SSD and 6GB Nvidia GTX 1060 graphics.
We all know a GTX 1060 doesn't have enough grunt to power a 4K panel when gaming, but is it worth having a higher resolution 4K panel when you aren't gaming?

Specifications
Model name: GS63VR 7RF (Stealth Pro 4K)-211UK
Price: £1,999
Chassis colour: Black
Screen: 15.6″ UHD, Anti-Glare (3840*2160) 4K eDP IPS-Level
G-Sync: no
Graphics: GeForce® GTX 1060, 6GB GDDR5
Processor: Kabylake i7-7700HQ
Memory size: DDR4 2x8GB (16GB)
SSD: 256GB NVMe SSD
HDD: 2TB (SATA)
Warranty: 24 months
This is an ultra portable gaming laptop. My colleague Allan has reviewed earlier models of the MSI Stealth Pro (and Ghost Pro) in 2016 and 2015 and he walked away with positive impressions. The Nvidia GTX 1060 incorporated into the newest iteration of the Stealth Pro is no gaming tour de force but it is comparable on a performance level to the previous generation GTX980, which in its own right is still very capable.
A GTX 1070 would certainly be a superior option for high resolution gaming, but a larger chassis with subsequently higher levels of thermal cooling efficiency would be a prerequisite. This defeats the point of the super slim Stealth Pro design, so we appreciate why MSI have gone down this route.
We think the MSI GS63VR 7RF Stealth Pro is an attractive looking laptop and for the most part it is well built. The materials used on the chassis design are high quality, although not quite at the same level as the single block of aluminium Razer Blade laptop design.
Initial use of the keyboard was positive, but the right click on the keypad was unusually stiff and it was hard to locate the 'middle'. If you are at all serious about gaming, then you will be looking for a proper mouse – the tracking is not as good as we had hoped it would be.
Audio performance from the MSI GS63VR 7RF Stealth Pro is rather weak, but we wouldn't expect ground breaking bass from such a small chassis, so we advise the use of good headphones or a set of external speakers to get the most from the media and gaming experience.
Ambient noise levels in the test area we used for the MSI GS63VR 7RF Stealth Pro are high enough to make scientific analysis of noise emissions difficult but, from a subjective point of view, the fans never seemed to spin that high. Even when gaming – plugged into the mains – they were low enough to not be distracting.
As you would expect with modern RGB technology, the keyboard can be customised with a variety of patterns, colours and speeds. Gamers love RGB products, simple as that.

We all know by now that the GTX 1060 runs out of steam at Ultra HD 4k resolutions, although if you are happy running modern titles with lower image quality settings then it is possible to tune most game engines to deliver frame rates close to 60 frames per second. We don't believe in reducing image quality too far however, so we have tested today at 1080p – the ideal resolution to be gaming if you buy this Stealth Pro. Nothing has changed in recent months, if you want to game at 4k then we recommend you opt for a fully fledged, heavy gaming laptop with one or two GTX 1080's in the mix.
The IPS panel in the MSI GS63VR 7RF Stealth Pro is very impressive. Viewing angles are excellent, both vertically and horizontally and colour reproduction is vivid and fairly accurate. This laptop actually doubles up very well as a portable, powerful, image editing platform thanks to the fantastic IPS panel.

Testing the laptop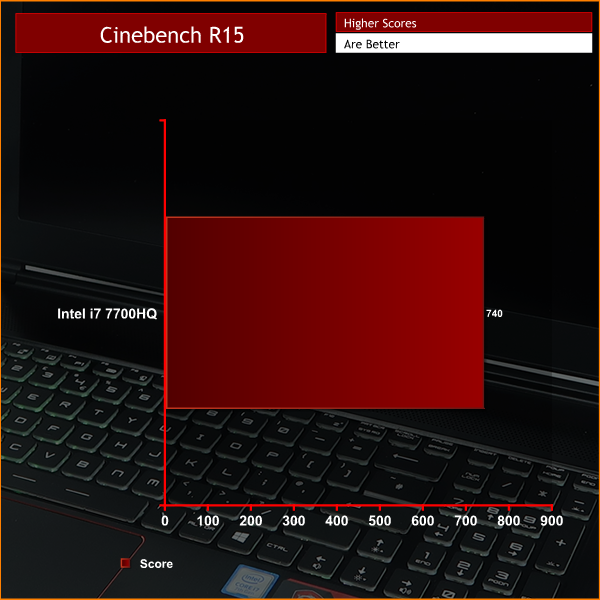 A score of 740 shows healthy CPU performance, indicating this is a high productivity machine for more serious on the move demands. 8 Logical cores offer good multi threaded performance.
Shadow of Mordor
At Ultra HD 4k, the GTX 1060 forces some performance drops so we decided on 1080p as the best resolution for testing. We want to stay as close as possible to the 60hz refresh of the panel at all times.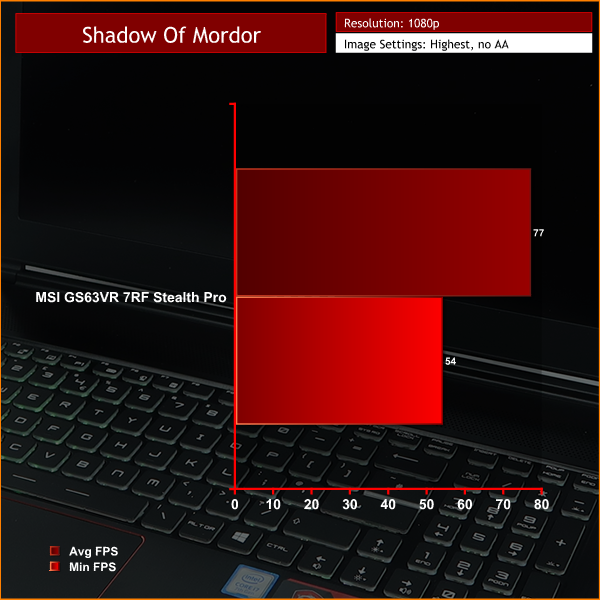 The overall results are very good, with some image quality tweaks we could easily get a solid 60 frames per second. At the highest image quality settings, but with Anti Aliasing disabled, we achieved an average of close to 80, with only a few drops into the mid 50's. We class this as a good gaming experience.
Grand Theft Auto 5
We tested GTA 5 with the highest image quality settings possible at 1080p, with Anti Aliasing disabled.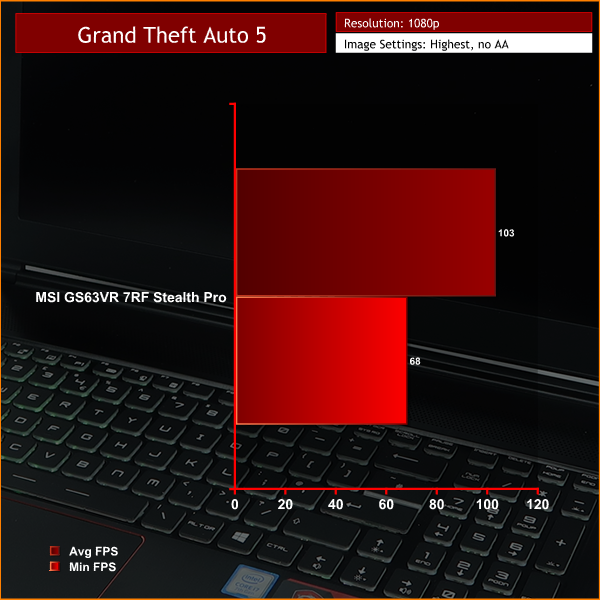 Overall performance was fantastic, with frame rates holding between 80 and 100 at all times. Only during a few of the more intensive game sections did we see the frame rate drop to just below 70, which is still above the 'sweet spot' 60hz refresh of the IPS panel.
Closing Thoughts
The MSI GS63VR 7RF Stealth Pro is available in several different configurations. Overclockers UK list four right now which you can see over HERE. You can tell them apart by looking at the full title on each page. The one we reviewed today is the '211UK' model which features the high grade 4K 15.6 inch IPS panel and a larger 256GB boot SSD drive.
Many gamers are going to raise a red flag against combining a GTX 1060 with Ultra HD 4K screen. Nvidia's GTX 1060 just doesn't have enough grunt to power modern game engines at the native resolution – well not unless you dramatically drop image quality settings. We don't test like that, because we want the maximum eye candy possible. If you want to game at 4K resolutions then you will want a bigger laptop with one, or two GTX 1080's.
MSI do offer other options of this Stealth Pro with a 17.3 inch 1080p 120hz TN panel. If all you want to do is play games, then we would recommend the '209UK' model, which is available for £1,599.95 inc vat HERE. You won't get the lovely vibrant colours and massively wide viewing angles of the IPS screen in the system we reviewed today, but 120hz at 1080p is a tough proposition for a hard core gamer to ignore.
We have seen plenty of MSI laptops that absolutely nail the price/performance combination, but every now and then a specification comes through where you wish one or more decisions had gone a different way. For example, when MSI combined a pair of 1080 graphic cards and a standard 1080 panel in the GT83VR 6RF 'Titan SLi' that we reviewed last October. You could say the 211Uk has a mis-matched combination of GTX 1060 and 4K panel, however we feel this particular machine not only makes for a good gaming laptop when the resolution is scaled down to 1080p, but it also can handle Adobe Photoshop duties very well, and even some moderate rendering duties on the move. The IPS Ultra HD 4k panel is much nicer than the 120hz 1080p panel for anything outside of gaming. MSI do give you the choice, so be sure to take some time to think about what you want to do.
Across their range, the GS73VR has the same GPU with a larger HD screen for £400 less, while the GT62VR offers a GTX1070 and 4K screen at the same price, but with a smaller SSD and Skylake CPU.
The brushed aluminium effect won't be to everyone's taste, but it does look impressive after you wipe a cloth over the inevitable fingerprint forest that will accumulate every day. The RGB effect is great and the lightweight feel for a powerful gaming laptop with a 4K screen is tantalising.
The MSI GS63VR 7RF Stealth Pro (4k w/ GTX 1060) is available to buy from Overclockers UK for £1999.99 HERE.
The 1080p 120hz version with smaller 128GB SSD boot drive is available from Overclockers UK for £1,599.95 HERE.
Discuss on our Facebook page HERE
Pros:
Lightweight and thin.
4K display is glorious.
Customise-able RGB.
Cooling is quiet.
Speakers are loud.
Cools surface when on lap for long periods of time.
Cons:
audio capabilities are weak.
Trackpad lacks enough precision for gaming.
GTX1060 isn't powerful enough for Ultra HD 4k gaming.
Webcam is fuzzy for 720p.
KitGuru says:  The MSI GS63VR 7RF Stealth Pro is a super portable, powerful laptop that can handle a myriad of duties on the move. The 4K panel is beautiful, but hard core gamers will opt for the less expensive version with larger 1080p 120hz panel.