Microsoft has had a difficult run with its Windows Phones, originally promising to become a third true mobile ecosystem but instead finding it difficult to gain support from developers. Today, the company is admitting defeat, killing off support for Windows Phone 8.1.
AdDuplex estimates that only 20 percent of Windows Phone users are running the last supported operating system, Windows 10 Mobile. This means that approximately 80 percent of phones still running Windows Phone 7, 8 and 8.1 are now officially unsupported. This is a drastically different outcome to the plan laid out by Microsoft, which stated all Windows 8 devices were to upgrade to 10.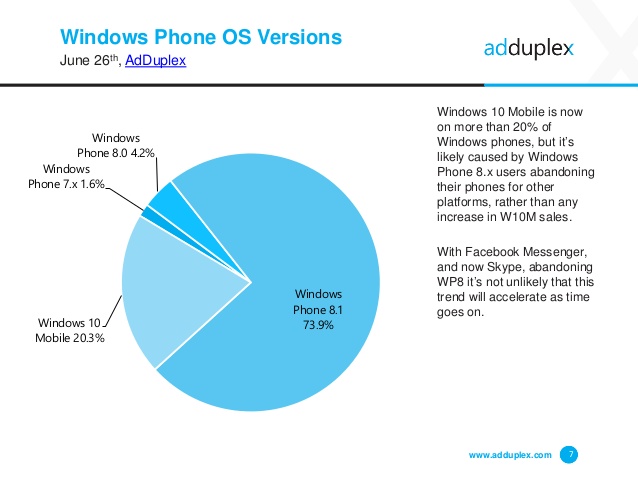 While there is still support for Windows 10 Mobile, for the foreseeable future it remains of life support. Currently the Windows 10 Mobile Creators Update is bare, containing little to no feature updates which paints a bleak future for the devices. Windows 10 Mobile is at least set for some extent of support until 2018, but is speculated to be maintenance rather than features at this point.
Microsoft put as much effort into Windows Phone 8.1 as it did the desktop version, introducing the digital assistant, Cortana, a new notification centre and UI changes. CEO Satya Nadella has dropped the "mobile-first, cloud-first" tagline in favour of what he calls the intelligent cloud and intelligent edge. This focus pushed Microsoft to work on multi-device scenarios and cloud technology that doesn't always involve Windows and would involve the company exploring the iOS and Android market. While it is just speculation at this point, the company might be giving up the Windows Phone brand to make way for Surface Phones that were rumoured last year.
KitGuru Says: I believed in Microsoft's promises and bought into a Windows Phone a few years ago, ultimately disappointed by the lack of support. It's a shame as users could benefit from a strong third market. What is your experience with Windows Phone? Do you still own one?