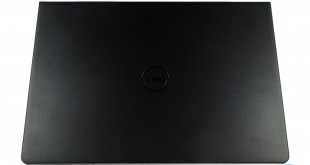 The Dell Vostro 15 3549 is described as an affordable business laptop, and on paper the specifications certainly seem to suggest we have the makings of a decent portable PC. There is a Broadwell-U CPU, 4GB RAM and a 15.6″ HD display – along with a fairly standard 500GB hard drive and DVD RW drive. We put the Vostro 3549 through its paces and see if it is worth the unusual £417 asking price.
Watch via our VIMEO Channel (below) or over on YOUTUBE HERE
Specifications
Operating System – Windows 7 Pro 64-bit / Windows 8.1 Pro 64-bit downgrade
Processor – Intel Core i5 (5th Gen) 5200U / 2.2 GHz ( 2.7 GHz ) / 3 MB Cache
Memory – 4 GB DDR3L
Storage – 500 GB HDD / 5400 rpm
Optical – DriveDVD-Writer
Display – 15.6″ LED backlight 1366 x 768 / HD
Graphics – Intel HD Graphics 5500
Camera – Integrated 1MP
Audio Features – MaxxAudio
Networking – 802.11n, Bluetooth 4.0 , Gigabit Ethernet
Interfaces – VGA , USB 3.0 , 2 x USB 2.0 , LAN , Headphone/microphone combo jack
Card reader – SD
Battery – 4-cell 40Wh
Colour – Grey
Dimensions – (WxDxH) 38.14 cm x 26.75 cm x 2.56 cm
Weight – 2.38 kg
When reviewing the Vostro 3549 it was important for me to keep in mind that this is a 'business' laptop – according to Dell themselves. It would therefore be unreasonable to expect solid 1080p gaming performance, or a super-slim chassis. While this may sound obvious, it is easy to have unrealistic expectations as here at KitGuru we review many high-end, expensive laptop solutions. This is clearly not going to be at the same level.
So with that in mind, the first thing of note when it comes to the Vostro 3549 is its design and product build. The Vostro features micro-striped plastic on both the lid of the laptop, as well as the palm rest area once the lid has been opened. While the aesthetics might not be for everyone, I do not find it unattractive. What is more, it allows for good grip when picking up the laptop, and would definitely help protect the laptop from scratches in the long run. For laptops of this price, the micro-stripes are definitely of the quality we would like to see.
The slim display bezel is also in the Vostro's favour. Measuring approx. 2cm around the display, the bezel is not very intrusive at all – which is more than we can say for some other budget laptops. However, the chassis is 25.6mm thick – one area where it falls short of meeting Intel's requirements to be classified as an Ultrabook. Currently, Intel specify a laptop must be no more than 21mm thick to be awarded with their exclusive Ultrabook tag. For the price, we are certainly not complaining, it is just interesting to see why the Vostro 3549 cannot be branded as an Ultrabook.
The rest of the design is more or less what you would expect. A full-sized keyboard greets you as the lid is lifted up, including a number pad – which is useful for those who use it, while not really affecting those who do not. The trackpad is positioned slightly left-of-centre as is now the norm, and is all one unit – i.e. there are not separate buttons for left-click and right-click buttons. The power button is in the top-right hand corner of the base.
Getting inside the laptop proved troublesome. Removing the DVD drive was the simple task of removing one screw – and then pulling out the drive. This would be useful for those of you looking to install a secondary storage drive via a drive caddy. Unscrewing 3 more screws allows you to remove the bottom panel of the laptop base, which gives access to the HDD and the solitary 4GB RAM module. However, I simply could not remove the rest of the upper panel, no matter how hard I tried. It seems Dell does not want users tampering with the rest of the innards, HDD and RAM aside.
The 15.6″ HD (1366*768) display is the next area of interest. The fitted HD resolution across the 15.6″ panel equates to 100 PPI, for those of you who like the raw figures. Though we are seeing 1080p laptops taking over more and more market share, 768p panels are still common – especially for cheaper laptops. I would not really expect to have a Full HD display until I was paying upwards of £600, and this display is perfectly usable at the price.
The screen is also of the matte/anti-glare variety, which is actually very successful. Bright light and reflections are considerably muted on the display, which makes this a good laptop for using outside. I am very impressed by this feature – I spent hundreds more than this Vostro on my own ASUS laptop which does not even have an anti-glare panel. This is a great inclusion and definitely broadens the appeal of the Vostro 3549.
Now, the keyboard is an important area on any laptop – as nobody wants a miserable typing experience. For a business laptop then, this is especially the case. While I was initially disappointed to find low-profile scissor-switch keys, all was not lost. Despite the 2mm key travel which is not very satisfying, one quickly becomes used to the slim keys and the seemingly effortless presses needed to register a key. If you really insist on more key travel, you will have to look elsewhere. But coming from my desktop mechanical keyboard, it did not take me long to adjust and start typing at my usual pace.
Inside the Vostro 3549 Dell have included the latest Broadwell-U CPU – the i5-5200U. Clocked at 2.2GHz, it boosts to 2.7GHz when necessary. Since the chip is obviously of the Broadwell-U architecture, it is of course ultra low power, with a 15W TDP. This allows impressive battery life, while still affording decent processing power on the go. Alongside the CPU is 4GB of single-channel, 1600MHz RAM and of course the integrated Intel 5500 graphics. Storage is provided by a 500GB, 5400rpm HDD.
We ran several benchmarks, which I'll detail later, but for now we focus on the everyday performance of the Vostro – which is quite impressive. Of course, being a business laptop with an ultra low power CPU to boot, I was not expecting the overall power of the machine to blow me away. I was, however, pleasantly surprised. Simple word processing and browsing tasks are no problem for the Vostro, and it was even able to stretch to some Photoshop work – not at massive resolutions, mind, but it was still fairly responsive. Considering serious photo editors and graphic designers would not consider the Vostro 3549 as a viable option for their work, we can simply  use this as an indicator of the i5-5200U's relative power. As a business laptop, I have no doubts that the Vostro can handle the lesser tasks of emailing, word processing and other general tasks with consummate ease.
The one area I would say there is room for improvement would be the system storage. In my mind, this could be done either one of two ways. One, you could replace the slow HDD with a SSD. Or two, a 1TB drive could have been used instead – which is a more cost-effective option. The HDD does slow the system down somewhat – which is where an SSD, though more expensive, could really help. I would not expect Dell to include an SSD though, so it would just be an area for each individual to look at if they so desired. Failing that, Dell probably should have included a 1TB drive, as they are pennies these days and it just allows that extra space which most modern users will need.
Benchmarks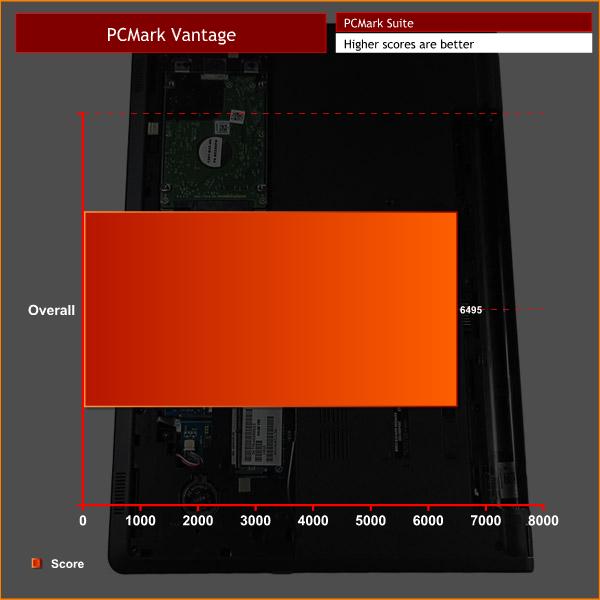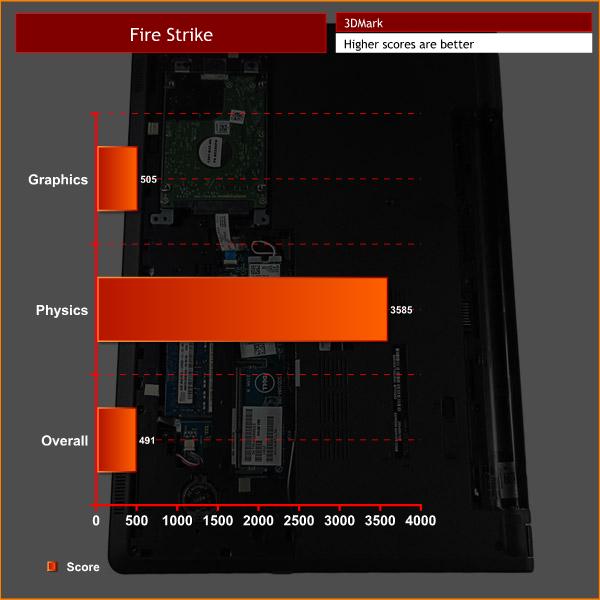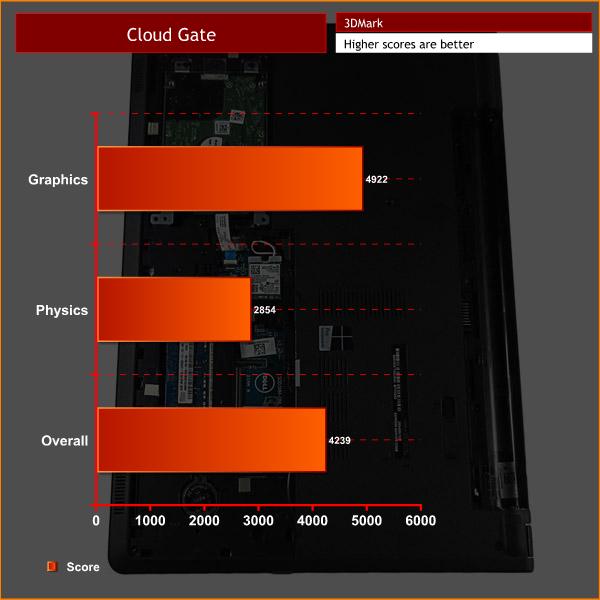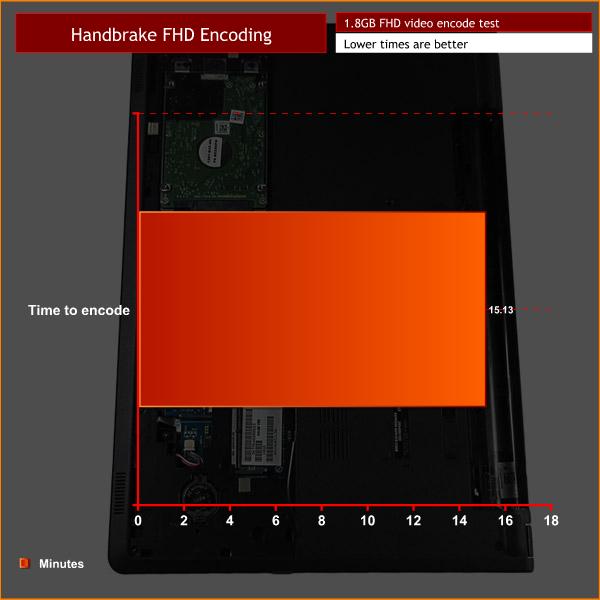 As for the benchmarks, I would not say there were any real surprises. Clearly, the intense 1080p graphical rendering provided by 3DMark Fire Strike was too much – though the physics test proved less of a challenge. Tomb Raider was borderline playable at low settings, which indicates light gaming is just about manageable on the Vostro 3549 – not bad for the integrated Intel 5500 graphics. The PCMark score also just shows that this a solid all-round unit.
Battery testing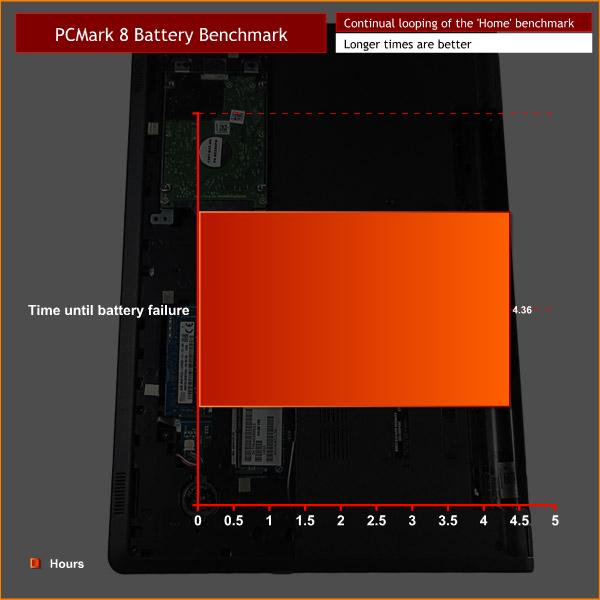 PCMark 8 allows users to loop its benchmarks infinitely until a laptop's battery has died. I looped the 'Home' benchmark on the Vostro 3549, and it lasted a big 4 hours 36 mins. Given that this benchmark is a constant assault on the laptop and uses lots of processing power, lasting over 4 hours is a great result. You can be sure of all day battery life with the Vostro as for other, lighter office tasks it will last for hours more.
Closing Thoughts

As I stressed previously, Dell have billed the Vostro 15 3549 as an 'affordable business laptop.' Therefore, it would be unfair to expect the latest games to play maxed out, as it would also be unfair to expect an aluminium chassis and a 1080p panel. For what it is, then, the Dell Vostro 15 3549 is a very solid and dependable laptop.
It is well constructed, with the plastic micro-striped lid and palm rest providing good grip and offering protection from scratches. The full-sized keyboard also makes typing easy – the low-profile scissor-switch keys will just take some getting used to.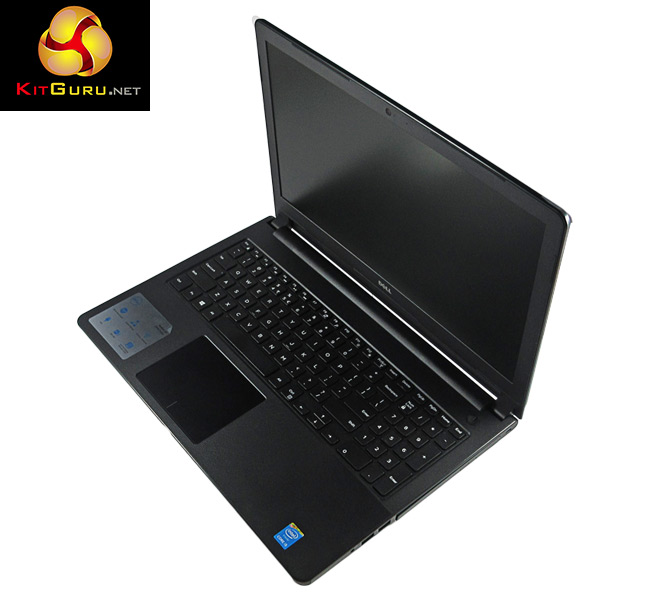 The 1366*768 display is what we would expect for the £417 asking price, though the matte finish is welcomed. It does a great job of muting light and any reflections, making this a good laptop to take out and about.
Thanks to the ultra low power Core i5-5200U, processing power for the laptop is not bad at all. General tasks – how the laptop would be used by business users – are no problem at all, while I found the Vostro 3549 could even stretch to some image editing. Nothing heavy, but it could be useful for some customers or businesses. As for games and graphical power, the integrated HD 5500 chip is obviously not going to run The Witcher 3, for instance. Tomb Raider averaged 30.1fps though at low image quality settings, so light gaming is more-or-less OK.
The main area of improvement I found would be the included 500GB HDD – users may want to think about replacing it with an SSD for improved responsiveness.
If you are looking for a simple laptop which can accomplish everyday tasks at a canter, while handling some light gaming and image editing, this could be it. There are no major drawbacks, and I'd say it is an effective solution at a reasonable price.
You can buy the Vostro from Dabs for £417 inc VAT here.
Discuss on our Facebook page, over HERE.
Pros
i5-5200U performs well
Matte display panel is great for outside work
All day battery life
Affordable
Light gaming is possible
Cons
HDD is slow and should be bigger at the very least
On the heavy side for what it is
Keyboard takes getting used to
KitGuru says: The Vostro 15 3549 seems a good, business laptop. It is nothing fancy, but handles general tasks easily and can stretch to light gaming loads too.