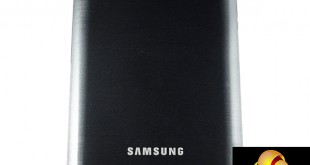 While many users these days may have several terabytes of PC storage space, mobile storage is yet to catch up. Many phones come with just 16GB of internal storage, while 128GB is just about as good as it gets. This means most users simply cannot fit their media collections on their mobile devices – which is far from ideal.
The Samsung Wireless provides a way around the issue of limited mobile storage by enabling individuals to store up to 1.5TB of photos, songs and videos on its disk space, and then stream it to up to 5 mobile devices. This makes having a smaller capacity mobile device less of a compromise as you can take your media collection around on a small and portable device. Retailing at £119.99 – we ask if it is worth the money.
1.5TB capacity.
802.11 b/g/n WiFi.
SuperSpeed USB 3.0 4.8Gb/s (max).
Compatible with DLNA devices.
Connect to up to 5 devices.
Weights 275g.
19.9mm x 89mm x 126.5mm dimensions (HxWxD).
Doubles as a portable charger.