Razer has introduced the world's first optical laptop keyboard in the Razer Blade 15, which is built to give gamers the advantage with lightning-fast actuation according to Razer.
The world's first optical keyboard designed for laptops announced by Razer introduces a low profile mechanical keyboard, featuring next-generation optical switches and will be implemented in the Razer Blade 15 gaming laptop. "The low-profile keyboard has been designed for gaming enthusiasts who demand near-instant actuation, satisfying tactile feedback, and rapid-fire inputs".
Under every key, an infrared light beam is used to detect when each key is pressed, offering greater precision and speed compared to conventional laptop keyboards. This results in a key actuation point of only 1mm at 55g of actuation force with 50% more travel, allowing users to input more commands through the keyboard in less time.
Additionally, the new optical key configuration features a satisfying mechanical tactile click, which offers feedback to the user to help recognise when the input has been registered, while also providing a superior typing experience compared to traditional membrane keyboards, Razer claims.
The Razer optical mechanical keyboard also features N-Key rollover with anti-ghosting and RGB backlighting offering 16,8 million colours, with pre-defined patterns which can also be customised using the Razer Chroma Workshop software.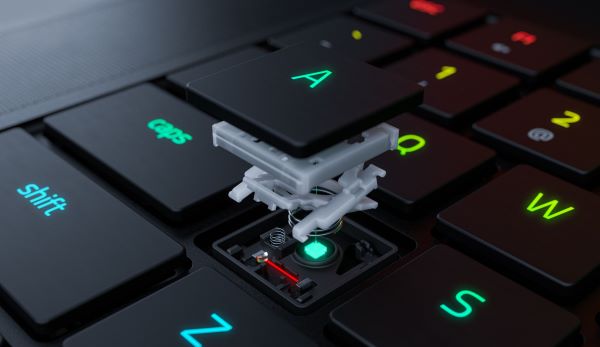 "Razer is a company built on firsts, we focus on pushing the envelope to provide gamers with the best-in-class hardware," says Brad Wildes, Senior Vice President of Razer's Systems Division. "Our Razer Blade 15 laptop with the new optical laptop keyboard is the first of its kind, providing gamers with the most advanced switch technology on the market anywhere they go."
The Razer Blade 15 Advanced gaming laptop offers a thin design that includes Nvidia GeForce RTX 2070 graphics, an Intel Core i7-9750H six-core CPU, 16GB DDR4 memory, a 512GB SSD drive and features the new low profile optical mechanical keyboard.
The new optical keyboard from Razer is currently available only in the Razer Blade 15 Advanced, which can be purchased from the Razer online store for $2649 in the U.S, with more models to follow in 2020.
KitGuru says:  Razer is well known for their quality range of desktop mechanical keyboards. Will the new optical mechanical laptop keyboards live up to the high standards set by Razer? only time will tell.