While there are plenty of places we can all agree using your phone isn't acceptable, the train isn't one of them. Granted an obnoxious voice call might get a few people riled up, but checking your texts and the latest news headlines should be possible. That goes doubly so for when you're commuting to work, as many people do to London every day. However trying to do so on most of the common routes into the city is unlikely to leave you satisfied, as a new study by Global Wireless Solutions has found that most of the lines into London feature horrible reception and wireless data coverage.
Despite London itself receiving excellent coverage from all of the major networks, when it comes too the train lines entering it, it's a whole other story. Many of the networks still use their 2G networks to handle much of the information going back and forth, as well as using codecs too compress the audio quality of most calls. And even when you can get 3G or 4G coverage, there's a near one in four, or one in three chance (respectively) of packet data dropping out.
When it comes to comparing the networks however, Three does surprisingly well, especially considering it doesn't have a 2G network of its own. It's able to connect the most calls at the highest quality. O2 was the worst culprit when it came to the quality of calls, utilising its 2G network on some 60 per cent of them, while EE wasn't far behind with 40 per cent.
Data rates shifted the rankings a little, giving Vodafone the nod for 3G connectivity and EE for 4G connectivity.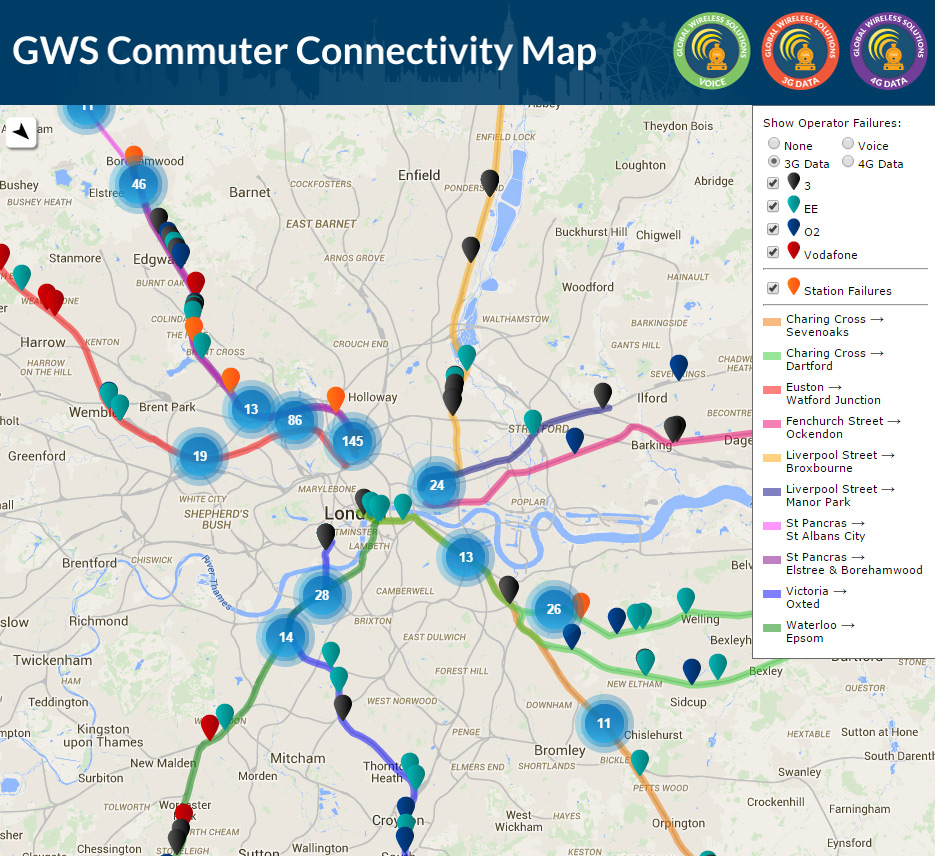 Every balloon represents a failure of some kind
In terms of specific train lines which featured poor reception, St. Pancras was the worst by far, with the highest number of dropped packets across all networks. Runners up in that respect were Radlett, Kentish Town and Upminster.
Paul Carter, CEO of GWS said of the results, that he hopes with commuter pressure mounting, it won't be long before networks offer better service to commuters.
" It'd be great to see networks, rail operators and station-masters taking the lead on improving connectivity for commuters – rather than having to be dragged into the 21st Century kicking and screaming," he said.
Discuss on our Facebook page, HERE.
KitGuru Says: I'm sure some of you guys commute into London on a regular basis. How do you find signal for data and calls on your way in and out?