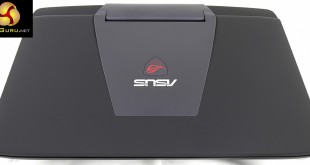 The specification of the Asus Republic Of Gamers G751J follows the tried and true combination of an Intel Core i7-4710HQ with Nvidia Maxwell graphics (GTX 970M in this instance), loads of DDR3 memory and a solid state drive to handle Windows and applications. The Asus Republic Of Gamers G751J laptop is a big, beefy fella with a 17-inch screen and claimed 3.8kg weight. In fact we found the laptop weighs in at 4.2kg and you need to allow another 1kg for the power brick and mains cord. Small it is not.
When you compare G751J with other gaming laptops you will find they take a similar approach. Asus has chosen to install 16GB of memory, which is a wise move as 8GB sometimes gets close to the edge. The GTX 970M graphics chip is guaranteed to deliver results.
It is tricky to decide which view of the G751J gives the best aspect of the sleek grey chassis. From the front you get the angles and what looks like a brushed aluminium clamp that holds the whole thing together, however closer examination reveals the chassis is actually made of plastic. Whoever did that piece of styling deserves a pat on the back as it looks really impressive.
The ports and connectors are arrayed on the two sides with a Blu-ray drive, two USB 3.0 and a card reader on the left while on the right we find two more USB 3.0, Ethernet, DisplayPort, HDMI, VGA and a set of audio jacks. There are no connectors on the rear of the chassis however you do get two exhaust ports for the cooling system.
Asus has made a major feature of the cooling by jacking up the chassis on four feet that allow cooling air to circulate and then as a final touch the vents are painted red. On balance – and it is a close run thing – we feel you get the best view of this laptop from the rear.
Take a close look at the photos you'll see the W, S and D keys have a red edging that makes them easier to find. Obviously you'll use a mouse but that is a nice little nod to gamers.
Asus ROG G751J Specification:
Processor: Intel Core i7-4710HQ Processor, 2.5 GHz (6M Cache, up to 3.5 GHz)
Operating System: Windows 8.1 (64bit)
Chipset: Mobile Intel® HM87 Express Chipsets
Memory Slot: 4x
Total System Memory: DRAM DDR3 8GBx2
Storage: SATA 1TB 7200RPM 2.5′ HDD, SATA 128G 2.5′ SSD
Display: 17.3'//LED Back-lit//300nits//Full HD 1920×1080
External video display modes: "HDMI 1.4 VGA max. 2048*1536 @85Hz refresh rate DisplayPort 1.1A" – Discrete/Share: Discrete
Video Graphics: NVIDIA GeForce GTX970M (N16E-GT)
Video memory: GDDR5 3GB
Video Camera: HD web camera
Optical Drive: [SATA] 9.5″mm 6x Blu-ray (Read)
Wireless: 802.11ac+Bluetooth 4.0 (Dual band) -WIDI
LAN: Realtek Gigabit
Card Reader: SD/MMC
USB Port: 4x USB 3.0
Interface: 1x Microphone-in jack, 1x Headphone-out jack (S/PDIF), 1x RJ45 LAN Jack for LAN insert, 1x VGA Port (D-Sub), 1x HDMI 1 x Thunderbolt
Audio: "Built-in speaker Built-in array microphone Built-in subwoofer Sonic Master"
Weight (Kg): "3.60 KG (Without Battery) 3.80 KG (with 8 cell battery)"
Dimension (cm): 41.6(W) x 31.8(D) x 2.30 ~ 4.30 (H) cm
AC Adapter: "230W AC Adapter Output : 19.5V DC, 11.8A, 230W Input : 100~240V AC, 50/60Hz universal"
Battery: 88WHrs, 4S2P, 8 cell Li-ion Battery Pack
Keyboard Type: Illuminated Chiclet Keyboard
Keyboard Specification: ASUS 417mm keyboard with 19mm full size key pitch and integrated numeric keypad
Antivirus and Tool Software: "30 days Office 365 Home Premium Power2Go Adobe Reader McAfee Internet Security 2012 MaxxAudio"
Security :"Intel Anti-theft LoJack"
Warranty: 2yr
Testing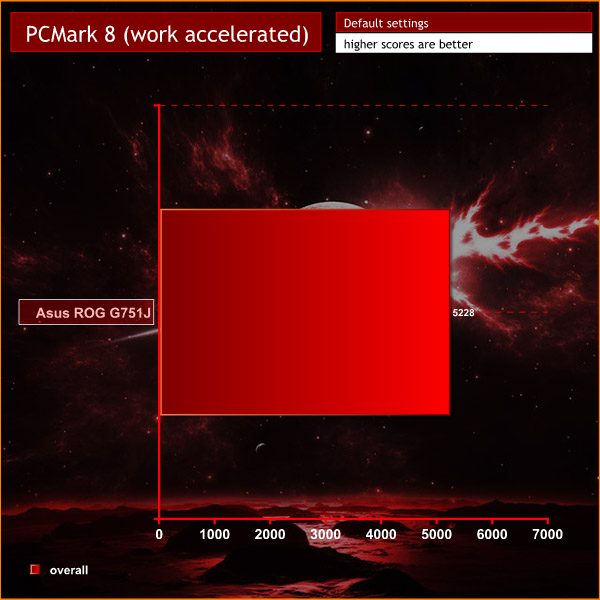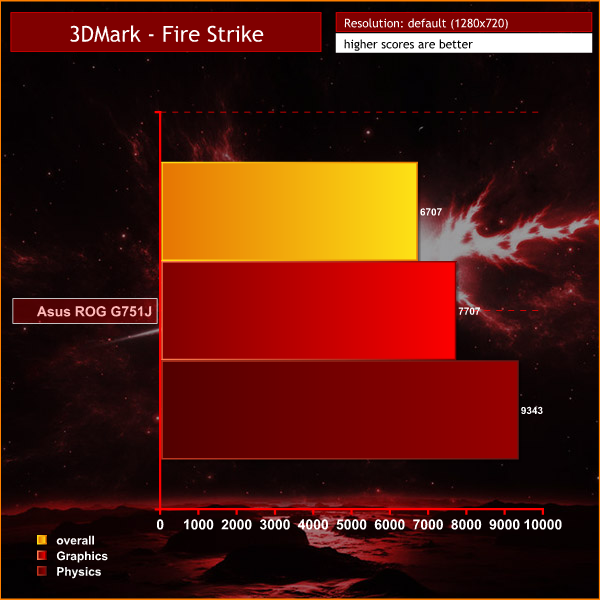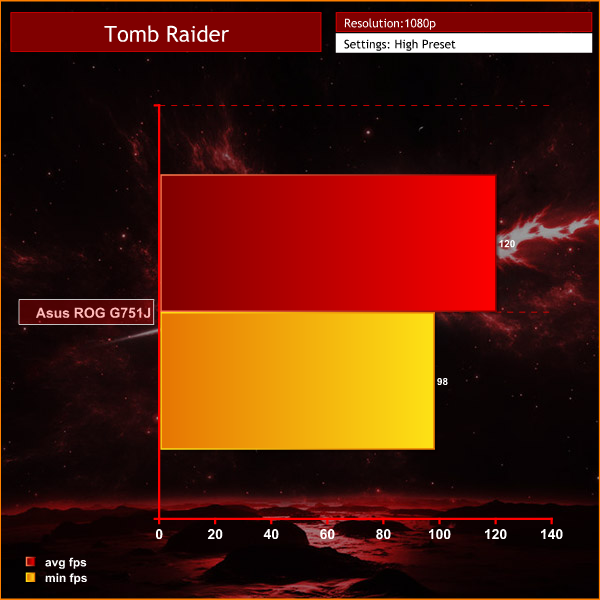 The Asus G751J performs exactly as we would expect from a combination of Core i7-4710HQ and GTX 970M graphics. It is interesting to compare results with the Cyberpower Fangbook Edge 4K (obviously you should ignore the 4K tests and look at Full HD) and you'll see there are ups and downs. In certain tests such as the Thief and Tomb Raider benchmarks it Is clear the Asus G751J has a handy few extra frames per second and this is almost certainly thanks to updates to the Nvidia graphics drivers.
Overall the Asus performs superbly and never missed a beat. The games and benchmarks ran flawlessly without a hint of a snag and there is simply no criticism that can be leveled.
Thermal Dynamics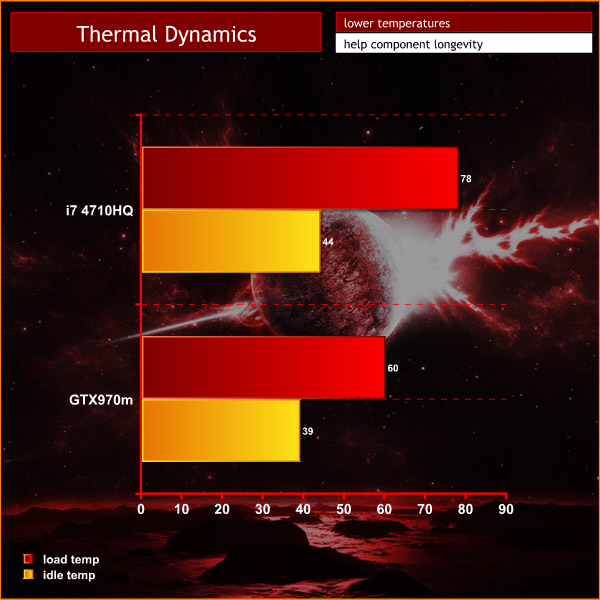 During our testing the G751J barely broke a sweat and ran like a dream. Stressing the hardware with Furmark and Cinebench loaded the components, however the temperatures were completely under control.
The impressive point here is that the heat was exhausted from those rear vents while the underside of the chassis remained cool to the touch. That's cool and barely above ambient temperature. Quite remarkable.
Acoustic Performance
When the Asus is idling on the desktop it is very quiet indeed and the cooling fans barely get above the audible level when the system is loaded. No doubt you'll wear headphones when you play games but if you choose to enjoy the 2.1 audio you will find the cooling doesn't impact to any notable extent.
Battery life
Testing the battery with loops of PC Mark 8 gave a figure of 2 hours and 9 minutes. Windows 8.1 shut down the system with ten percent battery remaining so there was no risk of losing your data. You can double that benchmark figure for a real world life of just over 4 hours but obviously If you plan on playing games you'll need to have the power supply close to hand.
Closing Thoughts
Perhaps the biggest debating point about the G751J is the screen as Asus has chosen Full HD 1,920 x 1,080 rather than the 4K panel we recently saw in the Cyberpower Fangbook Edge 4K. It feels so right to sport 3,840 x 2,160 pixels however you need epic graphics power to drive the panel and most games crawl along at a lowly 15fps or thereabouts. While we are converted to 4K on the desktop it is far more questionable on a laptop and it feels as though Asus has made the right decision in specifying Full HD for the G751J.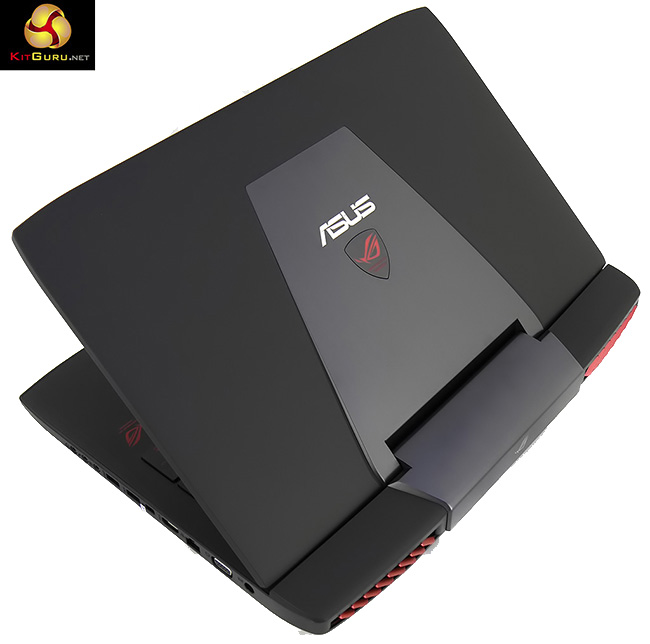 We like the Chiclet keyboard (turns out is is the correct name for an island keyboard) and the mouse buttons and touchpad also work well.
Pretty much the only thing we dislike about the G751J is the fact that you have to open the chassis to replace the battery. Oh yes, and it would be good if the SSD was larger than 128GB. Very nice laptop Asus.



Buy the full range of ASUS G751 laptops over at Overclockers UK – HERE.
Discuss on our Facebook page, over HERE.
Pros:
Superb gaming performance from the Core i7 and GTX 970M.
Impressive cooling with low noise levels.
The screen has that wow factor. High resolution, bright, sharp and clear
Impressive styling with that kicked up rear end and four supporting feet.
Intel AC-7260 dual band Wi-Fi
A mighty 16GB of DDR3 RAM.
1TB HDD supplements the SSD.
Cons:
SSD is only 128GB in capacity.
Battery replacement is awkward as you have to open the chassis.
You need some stamina to lug a 4kg laptop plus 1kg power brick.
KitGuru says: Asus is supplying a lot of laptop for £1350. Find it for £1200 and it looks highly desirable.