The Gigabyte Aero 15 is an intriguing laptop for two main reasons. The first is the way it packs a mid-sized 15.6-inch screen into a laptop that appears to have a 14-inch chassis – that 5mm bezel on the sides and top edge is remarkably slender. The second point is that we rather expected this sleek, light and stylish laptop would be branded as an 'Aorus', rather than a 'Gigabyte'. The explanation we were given is that the Aero 15 runs Windows 10 Professional which means it is intended for business users.
We aren't so sure a business user will want a laptop with GTX 1060 graphics and a keyboard with RGB illumination. It sounds like a gaming laptop to us, no matter what Gigabyte has to say on the subject.
Watch the video via our VIMEO Channel (Below) or over on YouTube at 2160p HERE
Specification:
Display: 15.6″ FHD 1920×1080 16:9 Wide Viewing Angle anti-glare display LCD
Processor: Intel Core i7-7700HQ
Processor Cores: 4
Processor Clock Speed: 2.8GHz-3.8GHz
Solid State Drive Supplied: 512GB PCIe M.2 SSD
Memory Supplied: 2 x 8GB DDR4-2400MHz
Memory Socket: 2 x SO-DIMM
Max. Memory Support: 32GB
Graphics Chipset: Nvidia GeForce GTX 1060
Graphics Memory: 6GB GDDR5
Chipset: Intel HM630
Audio: Integrated
Speakers: Dolby Digital Plus Home Theatre
LAN Speed: 10/100/1000Mbps Ethernet
Wi-Fi: 802.11ac/b/g/n
Bluetooth: V4.2+ LE
USB 3.0 Ports: Type-A x3
Thunderbolt 3: x1
HDMI Port 2.0: x1
Mini Display Port: x1
Audio Combo Jack (Microphone / Headphone): x1
Battery Pack: Li-Polymer 94.24Wh
Security: Kensington Lock
Card Reader: SD
Web Camera: HD
Operating System: Microsoft Windows 10 Pro
Dimensions: 250mm x 356.4mm x 19.9mm
Product Weight: 2.1kg
Warranty: 2 Years
Putting aside the question of whether the laptop is a Gigabyte or an Aorus, there is no denying that it looks good and feels impressively light. As you doubtless noticed in our video, our reference point for the Aero 15 is the Razer Blade which is high praise as we adore the Blade.
The fact is that the Blade is smaller in all three dimensions and is also slightly lighter however the CPU, GPU and RAM inside both laptops are almost identical.
Where the Gigabyte Aero 15 stands apart is the way is crams in that 15.6-inch screen while the use of the tiny bezel keeps the chassis down to a compact size. The size and resolution of the screen in a laptop is a matter of personal taste but the fact is that when a Windows 10 laptop uses a 14-inch, 13.3-inch or 12.5-inch you inevitably end up scaling the display to 125% or 150%. This can be aggravating as you cannot necessarily see everything you want in a given window. By contrast the Aero 15 can be set at its native resolution of 1,920×1,080 with the scaling at 100% and your reviewer found the experience was simply better than laptops such as the Blade.
In a perfect world a laptop would be a mobile phone with a proper mouse, keyboard and a screen that stretched or folded out to a size of 15-inches. In the meanwhile the form factor of the Aero 15 pretty much does it for us.
You may feel the emphasis on screen size is unwarranted but the fact is that in many respects the hardware inside the Aero 15 is unexceptional. It consists of a Core i7-7700HQ, 16GB DDR4-2400MHz RAM, GTX 1060 graphics and 512GB SSD which is all good stuff but it has become mainstream for a laptop costing around £2,000.
Pack in the larger screen and we're starting to take interest. Add in all day battery life and things are looking good, whether it is for game play or more boring stuff such as spread sheets.
Perhaps the weakest part of the Aero 15 is the way the hardware has been garnished with various bits of Gigabyte software to add a number of functions. Gigabyte Fusion controls the RGB lighting in the keyboard, Smart Update handles updates for the BIOS, driver and utilities and Smart Manager is a series of utilities for other functions such as fan control or switching off the Wi-Fi.
These pieces of software do a decent job but they feel exactly like the sort of thing you expect to get from a motherboard manufacturer, rather than a control suite that comes with a Lenovo ThinkPad. Put it this way, we can see no reason why a laptop aimed at business users would have the option of lighting the keyboard with a Rainbow Marquee.
Testing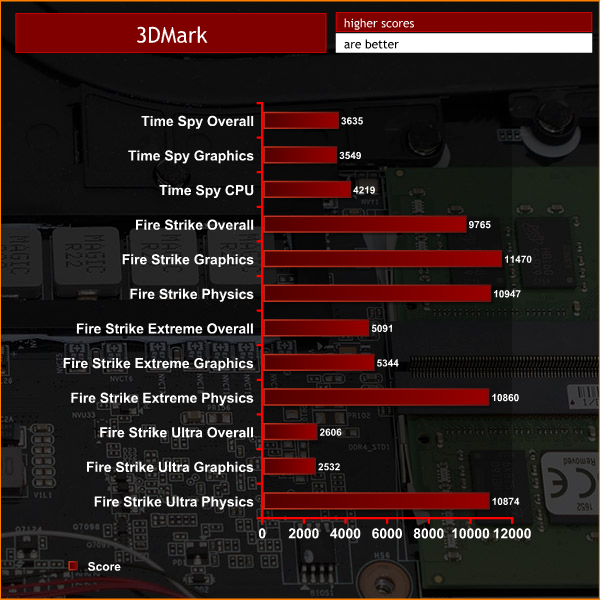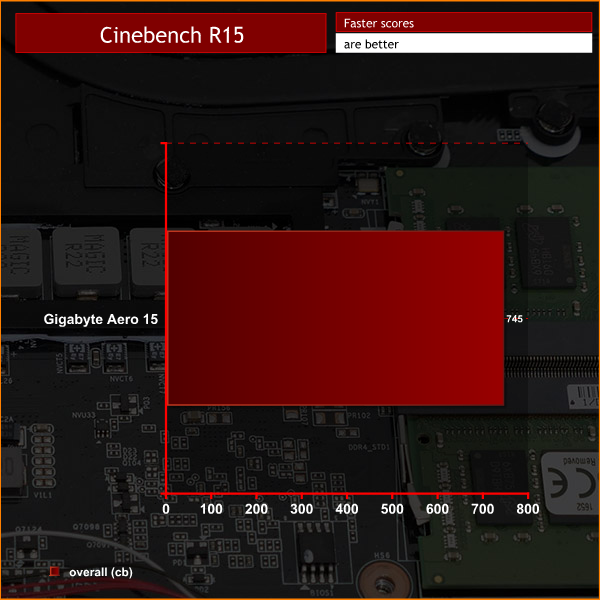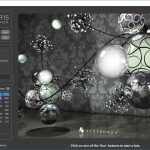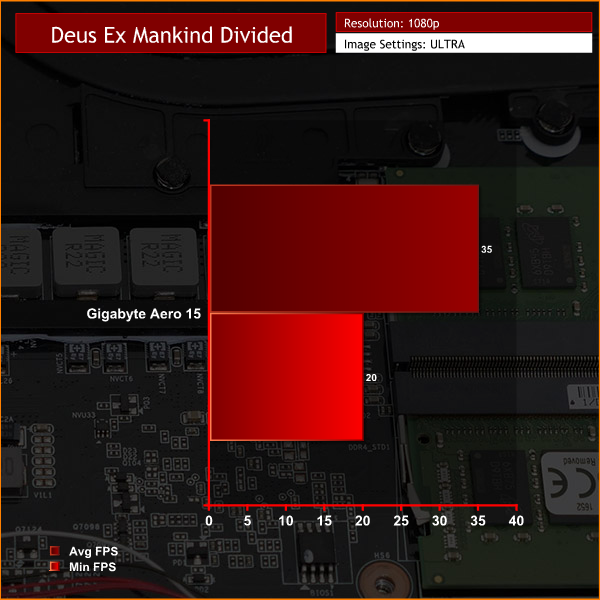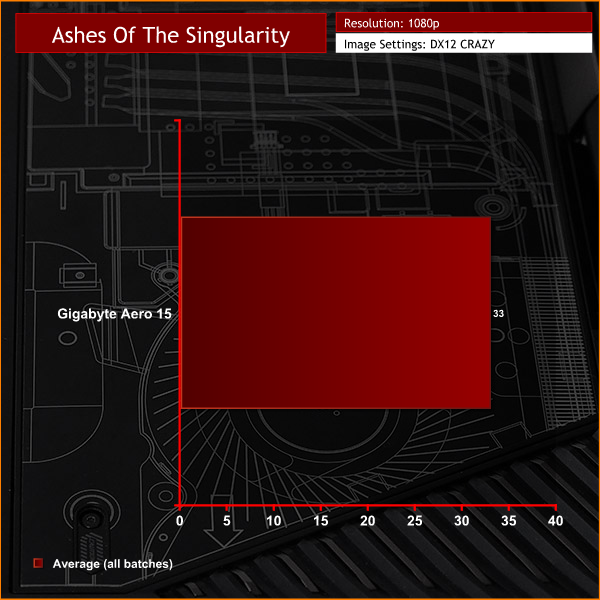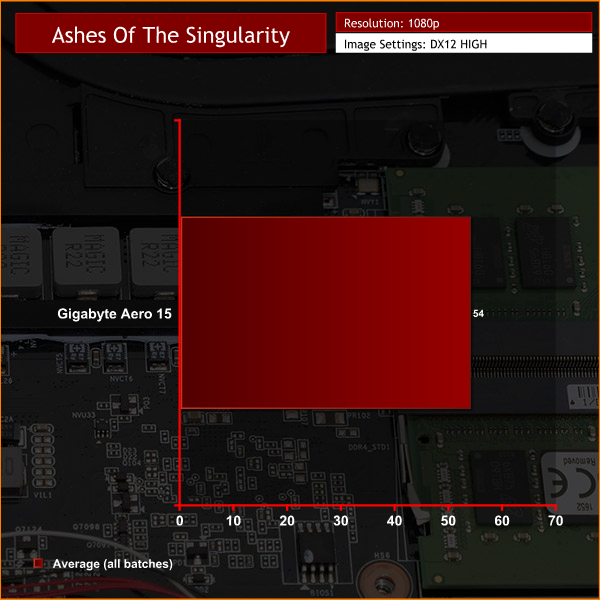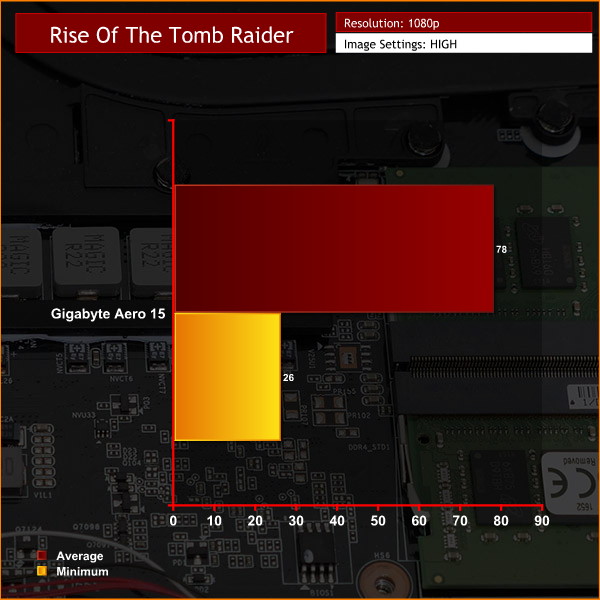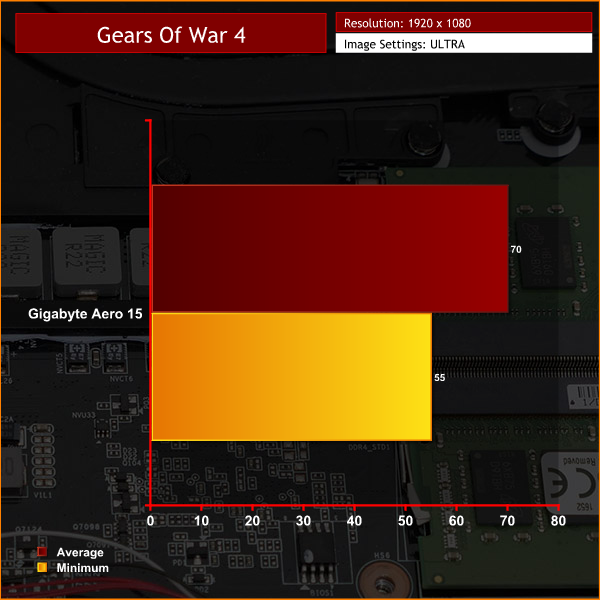 The cooling system in the Aero 15 is interesting as it draws in air from a channel in front of the screen and expels it through the ventilated bottom cover of the laptop. The heatpipes inside the laptop look quite conventional and we have no doubt the cooling system could easily manage the Core i7 and GTX 1060 chips. It seems the temperatures have been allowed to rise near the permitted limits to keep noise as low as possible.
The idle temperatures are in the 50s Celsius, which is 10 to 20 degrees higher than Razer Blade. Under maximum load the Aero 15 runs the CPU at 90 degrees and the GPU at 83 degrees with obvious signs of throttling, but in regular use this wasn't an issue.
Acoustics performance.
This is a very quiet laptop. In our video it is quite possible you will not be able to hear the cooling fans as the microphone is above the laptop while the exhaust is on the underside. It is an interesting idea that presumably helps to reduce the noise of the laptop.
Battery Performance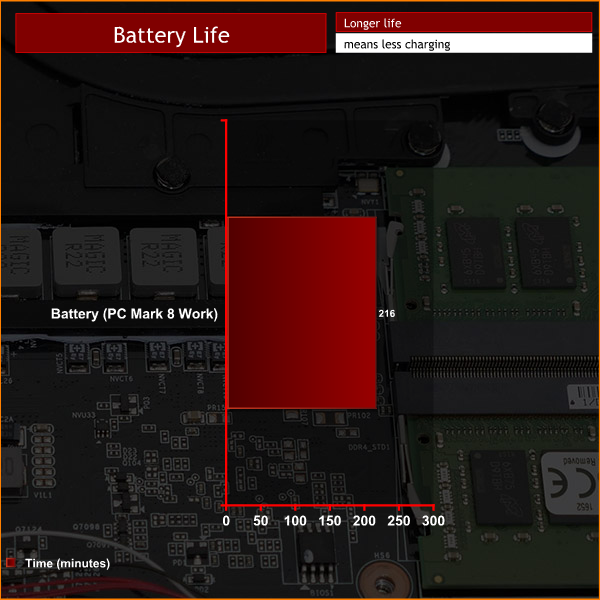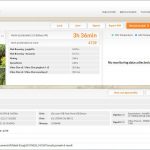 In our PC Mark 8 test the Aero 15 ran for 3 hours 36 minutes in a continuous loop which you can double to seven hours in the real world. It depends on your definition but we reckon that's close enough to 'all day' to make us very happy.
Closing Thoughts.
Gigabyte places a fair amount of emphasis on the aesthetics and styling of the Aero 15, and one of our biggest gripes with this laptop was that they sent us the black version, rather than orange or green. That's fair enough for a business laptop but our simple outlook on life is that if we're getting an RGB keyboard we want the matching in your face colour scheme.
Other aspects of the styling work well, in particular the slender chassis and the tiny screen bezel which makes the Aero 15 appear considerably smaller than its true size. Honestly, our first impression was that it is the same size as the Razer Blade when it is actually larger (and slightly more heavy). It took us a while to realise the cooling system draws in air through a channel behind the keyboard and in front of the screen which is then exhausted through the bottom of the casing.
We have minor concerns these exhausts might get blocked by soft surfaces, such as bedding, however this approach makes a good deal of sense. The exhaust vents are larger than the fans, where you usually expect to see nozzles in the side and rear of the chassis that are necessarily smaller than the thickness of the chassis. This could be a problem in a 19.9mm laptop where you are cooling a Core i7 and GTX 1060 so the approach taken by Gigabyte with Aero 15 means they can run the fans low, slow and quiet.
This is an interesting laptop that performs very capably. We don't quite buy the idea that it is intended for business users and hope the software receives a polish to make it more sophisticated but overall we were very impressed by the Aero 15.
More details on the Aero 15 at the Gigabyte website HERE
Buy from Overclockers UK for £1899.95 inc vat HERE. You can see all the coloured options HERE.
Discuss on our Facebook page, over HERE.
Pros:
Lovely aluminium chassis is less than 20mm thick.
The tiny screen bezel allows them to pack a 15.6-inch screen in a small chassis.
AAS (Azimuthal Anchoring Switch) screen technology has a very wide viewing angle.
Very good battery life.
150W power adapter has a USB port that can be used to charge your phone.
Cons:
Since when do business laptops have an RGB keyboard?
They sent us the plain black version rather than orange or green.
Gigabyte software is a collection of utilities, rather than an integrated whole.
CPU temperature causes throttling under stress test load.
KitGuru says: Gigabyte Aero 15 is a sleek laptop with a tiny screen bezel that looks very appealing.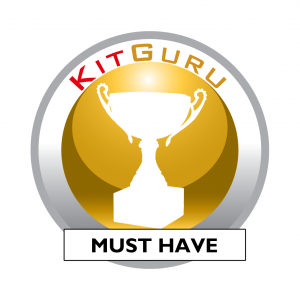 Be sure to check out our sponsors store EKWB here