Intel's Technology Open House in London was an exhibition of products from the chipmaker and its partners that showcase the capabilities provided by Intel. Core to the showcases were 10th Gen Ice Lake and Comet Lake laptops, Optane-accelerated systems, and gaming PCs designed for high framerate horsepower.
Referring to Intel as a 'chipmaker' in that opening paragraph would be inaccurate, according to Intel. For this current 2017-2021 period, Intel sees itself as a data-centric company that is driven by its six pillars. Intel is focused on building and delivering the platform, not just individual pieces of silicon. And that's where new design objectives, such as Project Athena, fit in – delivering a platform that addresses people's requirements, rather than individual pieces of silicon.
Watch via our Vimeo channel (below) or over on YouTube at 2160p HERE
Project Athena devices are intended to deliver untethered performance without compromise, meaning that today's professionals, freelancers, and general users can still use their device proficiently without being plugged into a power socket. Another key objective for Project Athena systems is speed, with owners needing to have the device usable within 0.8 seconds of lifting the lid. And of course, all-day battery life is something that we arguably take for granted in today's ultraportable laptop market, but it's a key focus for Project Athena devices.
We have already seen Ice Lake-powered devices at IFA, such as the new Razer Blade Stealth. Intel's 10th Gen Ice Lake processors feature, to various extents, increased focus on graphics and AI capability. The large chunk of on-chip Gen 11 graphics gives users the ability to game at reasonable frame rates and resolutions, according to Intel. The same GPU power can be leveraged in compute applications or you can take advantage of the 2x media encoders.
Combined with Intel's Deep Learning Boost capabilities for Ice Lake, we saw a demo whereby the specific instruction set had been programmed to leverage the iGPU on an Intel CPU to fix blurry images. A side-by-side showing against a Whiskey Lake-powered competitor highlighted the roughly 50% time decrease in completing the specific task. Intel representatives highlighted that this specific use case used an instruction set that heavily leveraged the advanced capabilities of the Ice Lake compute cores and, arguably more importantly, the Iris Plus iGPU in the model that we saw in action.
It was interesting to listen to Intel's Client Sales Manager – Jeff Kilford – discuss some potential use cases for Ice Lake-equipped Project Athena devices. Perhaps the AI capabilities of the processor will allow the Turbo Boost algorithm to more smartly increase system clock speed depending on my work preferences and specific use cases. Maybe a laptop's webcam can leverage the on-chip image processing unit to see when one is away from one's desk or distracted and laptop performance can be decreased, to preserve battery life, until they return ready to work.
Either way, the GPU performance from the Ice Lake Core i7-1065G7 that we saw in Dell's XPS 13 2-in-1 looked pretty decent given the form factor the 10nm 10th Gen CPU fits in. The World of Tanks benchmark was running on medium settings and looked to be delivering perfectly adequate frame rates that were vastly superior to the non-Iris Plus competitor sat inches away. Of course, we'd have to do our own testing to validate any claims and draw any conclusions, but in this brief demo, and judging by Intel's published performance figures, the 64EU Gen 11 graphics in Ice Lake look to be viable solutions for a variety of workloads.
Just don't expect to use the on-chip Thunderbolt 3 capability to output to 5K or 4K120 gaming displays; such high monitor resolutions should be reserved for productivity use cases, which highlights another area where Ice Lake excels – multi, high-resolution display support from the iGPU.
See our Cinebench R20 test on Dell's XPS 13 2-in-1 Ice Lake Core i7-1065G7-powered laptop HERE.
We saw laptops from the usual giants such as Dell, HP, and Lenovo, but it was MSI's Prestige 14 that was one of the main devices to grab our attention. Built around Intel's 10th Gen Comet Lake Core i7-10710U, this is the first device that we have had hands-on with to sport the six-core processor.
Built on Intel's refined 14nm process node, Client Sales Manager Jeff Kilford was keen to highlight that Comet Lake remains a 'beefier' and more typical upgrade from Intel's generational release. 10nm Ice Lake may be grabbing the headlines, but that shouldn't detract from the fact that squeezing six Comet Lake cores into a U-series processor is impressive, especially when the frequencies are more closely tied to Intel's ultra-refined 14nm process node than the newer 10nm alternative.
You can read more details about the Comet Lake Core i7-10710U-powered MSI Prestige 14 laptop HERE.
While 10th Gen was clearly the hot topic, Intel was still keen to showcase its desktop performance capability in the form of 8Pack's Supernova XLTD 9th Gen HEDT system and an 8th Gen-powered gaming system running a VR racing simulator. Though it is arguably less of a buzzword in today's market, VR gaming remains one of the key areas where Intel's desktop gaming processors can prove their worth. The demand for high frame rates on a monitor is nice. The demand for high frame rates on a VR headset is critical in avoiding nauseating effects.
Intel also discussed Optane memory (in its consumer desktop/laptop form) and the Intel Optane Memory H10 drive. Intel is still adamant that caching using 3D XPoint-equipped storage medium is a good solution for many consumer use cases. We'll let you make your own mind up on that point as the capability and products have been out in the wild for some time.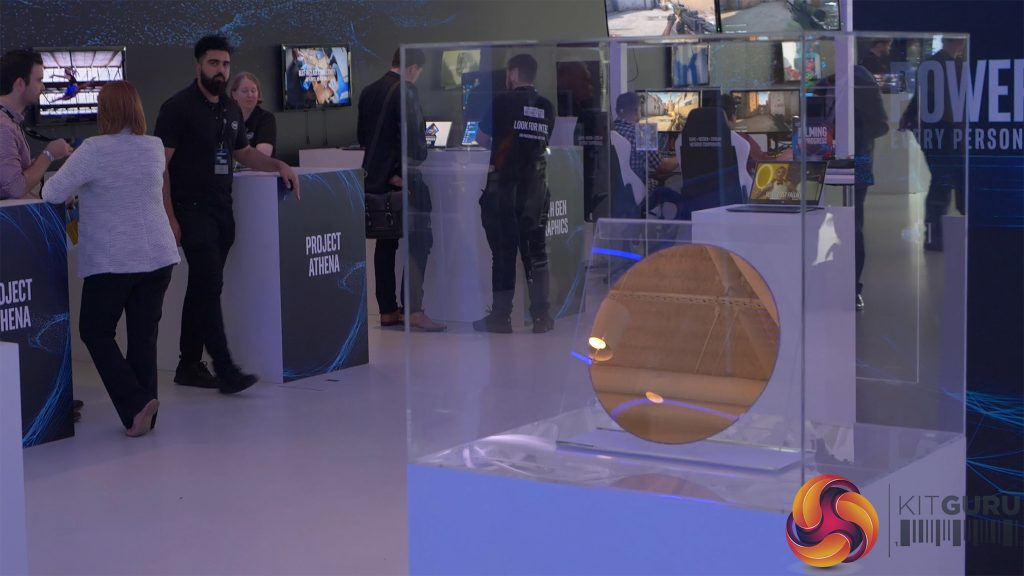 KitGuru Says: Seeing the vast variety of products that Intel is directly involved with is truly hammered home at an event like Intel's Technology Open House. Walking into a room filled with general computing devices such as laptops, gaming desktops, and NUCs sat just across from Optane DC Persistent memory modules, FPGAs, and Xeon processors serves as a justification for Intel's claims of being a diverse 'data-centric' company. Until 2021, that is, when Intel's target becomes 'powering the world'. Nevertheless, the proudly positioned silicon wafer serves as a reminder of the core that has thus far driven Intel's five decades of business.