Its back to school season, which means there are likely more than a few KitGuru readers currently shopping around for a new laptop to take on the go with them and enjoy some downtime with. This year, Asus has cut prices on four of its ROG laptops, delivering some pretty decent savings. To sweeten the deal, ASUS has also introduced a trade-in deal for the last week of this sale.
We'll start at the bottom and work our way up to the top. The first laptop on sale is the FX504GD-E4603T. Insanely long names aside, the laptop packs a 15.6-inch IPDS 1080p display, an Intel Core i5-8300H quad core CPU, 8GB of RAM and an Nvidia GTX 1050- so it should be good for some light gaming. It also comes with a 1TB HDD and 16GB of Intel Optane Memory, which speeds up load times for commonly used applications. This particular model is currently £669.99, down from £850 on Amazon.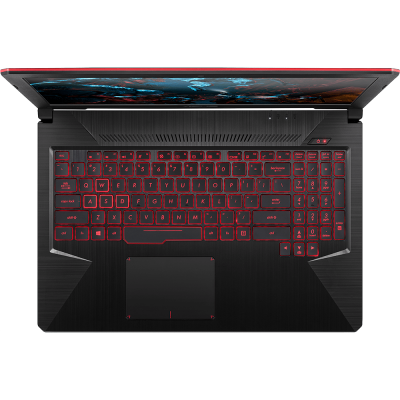 Next up is the FX504GM-EN150T. This one is quite the step up with  a 15.6-inch 1080p 120Hz display for ultra smooth gaming. It comes with an Intel Core-i7 8750H six core processor, 8GB of DDR4 RAM and an Nvidia GTX 1060 6GB GPU. For storage, you get a 1TB HDD for storage and a 256GB SSD for your boot drive. Asus is even throwing in a free rucksack and mouse.  This model can be found at both Overclockers UK and Amazon for £999.
The third ROG laptop on sale at the moment is the FX504GM-EN151T. It has the same 15.6-inch 1080p/120Hz display as the last laptop, but trades in the CPU for a Core i5-8300H. It also packs 8GB of DDR4 RAM and a GTX 1060 6GB GPU. The free rucksack and mouse apply here. The drop down to a Core i5 will save you some money, with this one coming in at £899 on Amazon.
The final laptop on this list is quite the best. The ROG Strix Scar GL703GS-E5011T makes the jump to a 17.3-inch 1080p display with a 144Hz refresh rate and 3ms response time. Under the hood you will find a Core-i7 8750H, 16GB of 2666MHz DDR4 RAM and a GTX 1070 8GB GPU. It also has a 1TB SSHD for storage and a 256GB SSD for the boot drive. Naturally, this one is the most expensive of the bunch, coming in at just shy of £1500 on Amazon.
If you plan on buying any of the laptops listed here, then you can get up to £180 back by trading in some of your old gaming tech. All you need to do is register your new laptop within 14 days of purchase and fill out a claim form. ASUS will then send you a pre-paid shipping label that you can use to send in an old gaming laptop or even an old console, including the Xbox 360 and PlayStation 3. The amount of money you get back from your trade-in will differ depending on what you are sending in, but this will be a good way to save some additional money on your upgrade. You can find the trade-in details and make your own claim, HERE.
All of the laptops listed here are available at similar prices at other UK retailers too. You can find the full list of participants, HERE.
KitGuru Says: There are some pretty good deals here. Are any of you currently in the market for a new laptop? Will you be picking one of these up?