It looks like The Carphone Warehouse has dropped the ball as the UK store just leaked the first official images and details for Google's next smartphone, which is set to be announced tomorrow. For starters, it looks like Google is retiring the Nexus name after all, replacing it with the 'Pixel Phone', the leak also reveals details on specs, features and the larger Pixel XL.
Tomorrow, Google will be announcing two phones, the Pixel and the Pixel XL. While we don't know what will differ in the larger version of the device, the standard Pixel will feature a 1080p display, a Snapdragon 821 processor, 4GB of RAM a microSD card slot and Android 7.1. The larger Pixel XL may feature a 1440p display instead, or perhaps a bigger battery but that was not confirmed in this leak.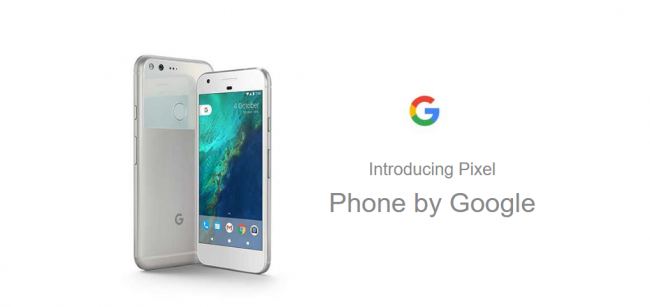 As far as features are concerned, it looks like the 'Google Assistant' will play a large part as the Pixel will be listening out for the words "OK Google" to start taking commands. The assistant has also been pulled into apps like 'Google Allo', allowing you to make searches during text conversations with friends. For example, if you were trying to find a place to grab lunch, you could type "@google find restaurants nearby" and it would pull up a list in the chat for everyone in the conversation to look through.
Some changes have also been made on the video chatting side, with the introduction of 'Google Duo', which seems to be the company's FaceTime competitor. Essentially, it lets you video call people on both Android and iOS, with a 'knock knock' feature that let's you see the person calling before picking up. Speaking of video, the camera app has been improved a bit too, offering better low-light performance and built-in cloud storage for pictures so you can save space on internal storage.
The final leaked slide we managed to get our hands on details changes made to the battery and charging. Now with USB Type-C, the Pixel Phone can juice up on 7 hours worth of battery life in just 15 minutes. Android 7.1 also brings a new feature called 'Doze' so that when you aren't using your phone, it puts itself into a sleep state to save on power.
That's all of the information we have for now and you can see the slides for yourselves at 9to5Google. However, do keep in mind there may be more information, which we will learn about at Google's event tomorrow- unless it leaks first.
KitGuru Says: It can be difficult for companies to keep things under wraps these days, particularly when outside sources get involved. Still, it will be interesting to see what else Google touches on at its event tomorrow and how the Pixel will differ from past Nexus smartphones.