You don't get much in the box, or indeed much of a box, with plain beige packaging supplied. Inside is just a power cable and external power brick.

The PNY Prevail Pro is reasonably attractive, certainly more so than many Clevo chassis. It's still a no-nonsense laptop, with just a few silver flashes on the hinge to break the theme of matte black. But it's not particularly thick even at the rear, measuring just 18mm, so should slip into most laptop bags.
Although 2.2kg is a bit much to carry around on your shoulder all day, it's definitely portable, whereas 17in monsters often weigh 4kg or more, so you would really only want to move them from desk to desk, not whip out on a train.
The 7700HQ is at the bottom of the high power Intel Core i7 mobile range from Intel's eighth Kaby Lake generation. It has been around for over a year, but currently there is no direct high power successor available. This is a quad-core CPU with Hyper-Threading, and runs at a nominal 2.8GHz. However, a single core can run at 3.8GHz, two cores at 3.6GHz, and all four at 3.4GHz.
So there is plenty of processing power available whether you are running single-threaded tasks like modelling or image editing, or multi-threaded tasks like 3D rendering. The CPU is not too thirsty for Watts, requiring 45W at full pelt and 35W when in low-power mode.
PNY has made the professional intentions of this notebook plain by including the maximum 32GB DDR4 memory possible, and using fast 2,400MHz modules. Again, this is the same quantity as a mainstream desktop workstation, and not far behind in frequency either.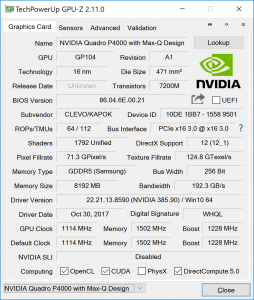 The star of the specification show is undoubtedly the mobile NVIDIA Quadro P4000 mobile workstation graphics. This still sports the same 1,792 CUDA cores as the desktop version of the P4000, and also comes with 8GB of GDDR5 memory on a 256-bit bus. However, both GPU and memory run at lower clock speeds.
The mobile P4000 GPU operates at 1,228MHz, whereas the desktop version is 26 per cent faster at 1,544MHz. Likewise, the mobile memory runs at 1,502MHz (6,008MHz effective), compared to 1,901MHz (7,604MHz effective). The result is 192.3GB/sec of bandwidth rather than 243.3GB/sec. So performance will be lower than the desktop version, but in the same ballpark.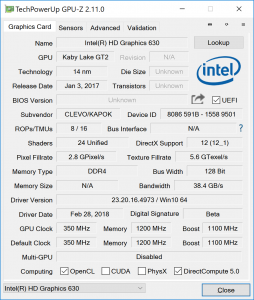 However, the Intel processor also has UMA graphics built in. This is HD 630, which operates at 350MHz with a 1,100MHz boost, and boasts 192 shading units. You won't want to use this for professional 3D work; it's more there for when you're using this laptop on the move for everyday tasks like email or Web browsing.
The 15.6in screen is certainly up to the professional tasks you will be performing with the PNY Prevail Pro. It offers a UHD (3,840 x 2,160) resolution and is both crisp and rich in colour. However, PNY doesn't divulge much about the screen technology it employs.
There's also a Full HD webcam in the middle of the top of the bezel, should you need to place a Skype call to a client.
The storage provision certainly won't leave you longing for a desktop workstation where capacity is concerned. The Samsung PM961 SSD provided for operating system and apps has a 512GB capacity, and uses the M.2 NVMe connection, so shouldn't be any slower than a desktop system.
The Seagate Mobile HDD SATA hard disk is a spacious 2TB, which is what you'd expect from a tower chassis workstation, although the 2.5in form factor and 5,400rpm spindle speed will mean it won't have quite the throughput of the latest 3.5in desktop models.
The 15.6in form factor provides enough room for the Chiclet-style keyboard to include a discrete numerical pad. It's a reasonable keyboard, although the action is a little shallow. The large trackpad offers discrete buttons, and a fingerprint reader in the top-left corner.
It's an accurate pointing device, and the discrete buttons could be handy with professional applications that make extensive use of right-click for viewport activities such as switching between zooming and panning. The trackpad isn't quite directly beneath the space bar, but it's far enough over to the left to avoid most accidental brushes with the palm of your hand.
The PNY Prevail Pro really has a lot of expansion ports, and is very future-proofed in this respect as well. On the left, next to the power socket, is full-sized HDMI 2.0, and a pair of Mini DisplayPort 1.3 connections. So you could hook up more than one external monitor. Further along can be found not one but two USB 3.1 Gen 2 Type C connections, and then two USB 3.1 Gen 1 Type A ports.
The right-hand side is home to 3.5mm audio jacks for headphone and combo microphone S/PDIF. Then there's another USB 3.1 Gen 1 Type A port, followed by a SDXC card reader and Gigabit Ethernet LAN port.
You shouldn't have any problems connecting all your desired peripherals at once with this laptop.