MSI hauled in press from around the world for its big press conference to officially unveil its new line up of Pascal equipped gaming laptops. Information on these notebooks has been showing up piecemeal over the past few weeks, but now we have the official specs and some official images.
Our man Leo Waldock was on the scene for this Taipei launch event, which featured animations, dancing, glow-poi spinning and more, all to show off a new range of laptops that should be mighty powerful.
Looking to "shatter the cliché" that laptops are no way near as powerful as desktops, this latest range of gaming notebooks come packing GTX 1080, 1070 and 1060 mobile chips, all of which are close in power to their add-in counterparts. They are even available in SLI configurations in some of the more powerful systems MSI showed off.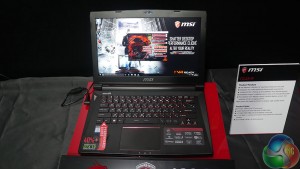 Starting with the little guy, we have the GS43VR, which sports a GTX 1060, 6GB graphics chip, alongside a Skylake i7 processor, and up to 32GB of memory. It's the thinnest and lightest in the range, coming in at 14 inches at a 1080P resolution.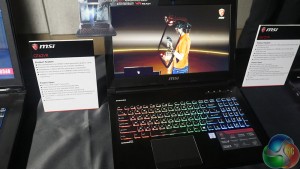 The larger GT62VR gives you a choice between the GTX 1060 or GTX 1070, as well as 15.6 inch 1080P or 4k IPS displays. You can also pack in up to 64GB of memory, an Intel Core i7 Skylake CPU and M.2 storage with up to 2,200MBps data read rates.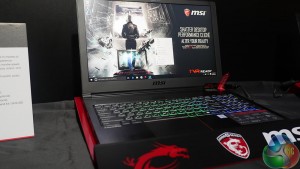 The GS63VR is a thinner and lighter version of the GT62VR, so only comes with a GTX 1060 option, but it can have a 4K display if you like. Memory is up to 32GB of DDR4, with a Skylake i7 CPU to back it up.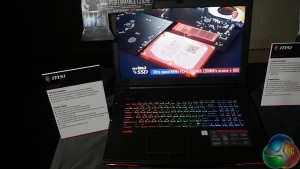 The GT72VR takes things up to a 17.3 inch display in a variety of configurations. You can have a standard 1080P, IPS display, or a 1080P panel operating at up to 120Hz refresh rate, with a 5ms response time. There's also 4K resolution options for those that want it, in which case it might be better to go with the GTX 1070 option, rather than the GTGX 1060 you can also choose.
Once again it has a Skylake i7 CPU and up to 64GB of DDR4 memory. It also comes packing eye tracking ability, making this a great laptop for those with limited accessibility with laptop controls.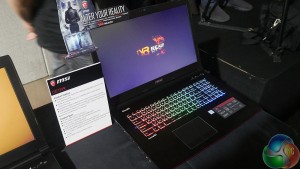 The GT72VR is aimed more at streamers, with a package of high-end hardware like the GTX 1060, Skylake i7 CPU, 32GB of memory and up to a 4k IPS, 17.3 inch panel – but it's in the inclusion of a XSplit Gamecaster subscription that sets it apart. It also makes use of MSI's new Cooler Boost 4 technology, to keep the laptop running cool and quiet.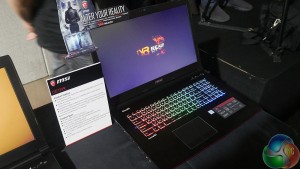 The GS73VR might be one of the biggest laptops on display, but it's designed to be thin and portable. It packs a 17.3 inch display up to 4K resolution, with 32GB of Memory and a GTX 1060. Its display also operates at 120Hz with a 5ms refresh rate. Audio should be improved through an ESS Sabre Hi-Fi DAC too.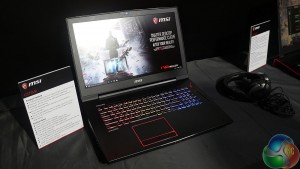 The powerhouse of the bunch is the GT73VR, which gives you options for a single GTX 1080 under the hood, a single GTX 1070, or a pair of GTX 1070s linked up in SLI. Combined with 64GB of DDR4 and a Skylake i7 CPU, this should be a real powerhouse.
Discuss on our Facebook page, HERE.
KitGuru Says: MSI is pushing this new laptop range hard, but it may have to convince people to pay up big money to have them buy in to the new range, as we would imagine a pair of SLI 1070s would make one of these a really expensive piece of kit.