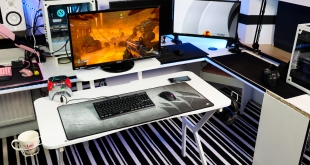 Today we're looking at something a little different. Maybe you've just built your brand-new system, or you've bought a shiny new pre-built, you've got your monitor, keyboard, mouse, headset, everything you'll need… but you can't just set it up and game on the floor, can you? You'll be needing a quality desk and preferably one with "gaming" in the title, right? That's where Genesis step in with their Holm 320 RGB white gaming desk, with a cup holder, headphone holder, gamepad holders, USB-HUB, wireless charging dock and RGB! Coming in at 239.99 Euros, which puts it approximately around £210, is it worth it? Let's find out!
Specifications:
Material: MDF
Desktop finish: Carbon fibre style
Colour: White
Construction: Metal frame
Dimensions: 120 x 60 75 cm
USB HUB: 3x USB 3.0
Max transfer (USB HUB): 5 GBps
Input voltage (wireless charger): 5V-2A
Output power (wireless charger): 10W
RGB LED strip preinstalled along back edge
RGB LED strip controller included
Accessories: cup holder, gamepad x2 holder, headphone holder
Dedicated monitor stand (can be removed)
We don't yet have a buy link but the Genesis Holm 320 RGB Desk is priced at for 239.99 Euros.
Discuss on our Facebook page HERE.
Pros:
Carbon fibre style desktop feels good quality, easily wipeable too.
Great space saving techniques, lots of desk room.
Included accessories are helpful – USB hub, wireless charger, cup holder etc..
Overall build quality is good.
No stability issues.
Cons:
Fairly expensive.
Cable management tray installation holes are not aligned correctly.
Cup holder's handle cut out is facing the wrong direction.
K leg supports could have been welded or painted slightly better.
KitGuru says: If your budget allows for it then we think the Genesis Holm 320 RGB desk is worth it, the overall build quality is impressive, the carbon fibre finish is nice and easily cleanable, the accessories are a nice quality of life touch and the most important thing is that it's stable. 
Be sure to check out our sponsors store EKWB here