Razer has decided to expand its peripheral family yet again, except this time it has launched a new version of an existing mouse, the Basilisk. This new mouse is the Basilisk Essential, and it has taken all of the most loved features of the original and put them into this budget mouse with an MSRP of £49.99. 
Watch via our Vimeo channel (below) or over on YouTube at 2160p HERE
Specifications:
Colour: Black
Connectivity: Wired
1.8m braided cable with Type-A connector
7 Programmable Hyper response Buttons
DPI: 200 – 6,400
Mouse Button Type: Razer mechanical mouse switches, rated for 20 million clicks
Gaming-Grade tactical scroll wheel
Up to 220 inches per second (IPS) 30G Acceleration
Sensor Type: Optical
Polling rate: 1000Hz
Backlight RGB LED: 2 Zone, Scroll wheel, Razer Logo
Razer Chroma Lighting; Customizable 16.8 millions colours
Single Length Multi-function paddle
Weight: 95g without cable
Dimensions: 124mm(L) x 75mm(W) x 43mm(H) / 4.88″ x 2.94″ x 1.69″
Box Contents:
Razer Basilisk Essential Mouse
Single-length, Multi-function paddle
Quickstart guide, Razer sticker and Product greeting card
The mouse itself retains the same shape as the original Basilisk, but has been tweaked to be a more lightweight option, weighing a total of 12g less (not including the cable) which allows for easier, fluid mouse movements. It only is available in the colour black, and has a very smooth feel and look to it. I found that using the Basilisk Essential overall was very comfortable and nice to use. Unfortunately, I did find that the shape of the mouse cuts away a little too steep on the right-hand side, so when my hand  was resting in a comfortable position on the mouse, I found that my little finger would touch and slightly drag against my mouse mat.
I also found the mouse has quite a high lift off distance (LOD), meaning that at some points when gaming, you may find your in-game character randomly staring into the sky as you lift up your mouse. However, acceleration is not an issue and the general mouse movements feels precise and accurate.
Having the single-length paddle is a great feature to have with a gaming mouse, especially since you can program it to do pretty much whatever you may need when on your PC. You can either have it as an option to lower the DPI – great when sniping in games, or editing in Photoshop – or set it to do something completely different. Unfortunately, for me as I have rather small hands, I had to move my hand out of it's comfortable position and over-stretch it in order to reach the paddle button.
When it came to the Razer Synapse software, this was my first experience using it. I found that it is simplistic and very easy to use and has a lot of customisation options for the mouse such as; Macros, Key Re-mapping, Lighting Effects, Calibration, and more. You can have either choose preset options for the lighting effects, or you can use the Chroma Studio module where you can be more creative by stacking lighting effects on top of each other, adjusting effect speeds and setting the brightness.
Overall though, I'm currently still using this mouse for my day to day tasks and playing games as it performs well, and even though I don't really use the paddle button, it's still a comfortable mouse and a good option at £50.
The Basilisk Essential has launched today with a £49.99 MSRP, and we will update this review with a buy link when we have one.
Pros:
Affordable.
Comfortable with the thumb rest.
Customisable multi-function paddle.
Lightweight, responsive, fluid mouse movements.
Cons:
Right-hand side of mouse is a little steep.
The single-length paddle seemed a little bit far away for smaller hands.
High lift off distance (LOD).
KitGuru says: The Basilisk Essential is a great budget option with its 7 programmable buttons, mouse paddle and comfortable shape.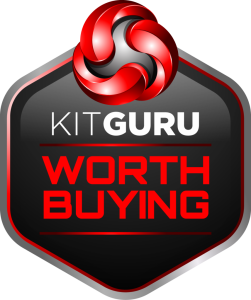 Be sure to check out our sponsors store EKWB here