The Xtrfy XG1-R LED is a fantastic gaming keyboard. While it undoubtedly has a simple appearance, it is not unattractive. Rather, it has just enough going on to hold interest and look appealing when sitting on a desk.
What sets the XG1-R LED apart from the crowd, however, is its on-board macro and lighting options. Doing away with software completely, the XG1-R LED gives the user the ability to set a myriad of macro and lighting options on-the-fly. What's more, they are stored to the board's internal memory so you can plug it in anywhere and access your stored settings.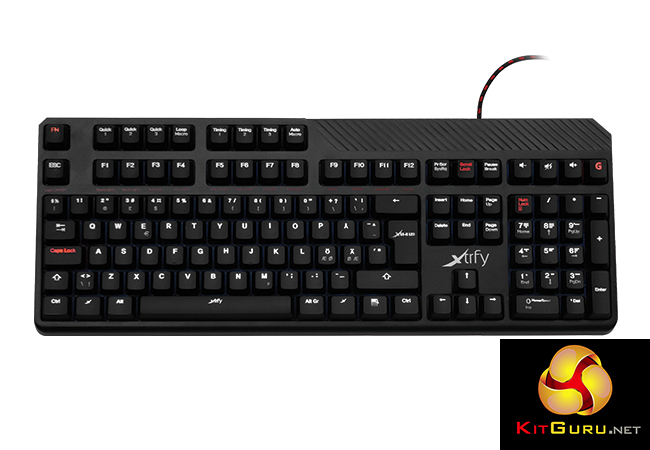 I can see why the XG1-R LED appeals to eSports gamers – after all, it comes with a stamp of approval from Swedish eSports outfit Ninjas in Pyjamas.
Of course, the Cherry MX Red switches are also a pleasure to use, providing a fast and responsive gaming experience. Rest assured, if you purchase a XG1-R LED, it will not let you down.
There is just one stumbling block to buying one, however, and that is the price. At £114 in the UK and €159 on the continent, it is a fairly expensive keyboard – especially considering it lacks RGB lighting, a USB passthrough or audio jacks, which are features we expect to see on a higher-end board.
I also question how much of the mechanical keyboard market the XG1-R LED will appeal to. For many gamers who play exclusively at home, the on-board memory system may not be so appealing considering you can get a cheaper mechanical keyboard that simply uses accompanying software. Essentially, I fear the XG1-R LED may be too much of a niche product in the grand scheme of things.
It is this which holds the XG1-R LED back from the highest KitGuru award, but if you have the cash, I recommend it wholeheartedly. You can currently pick one up for £113.99 from Overclockers UK HERE.
Pros
Fantastic on-board lighting and macro options.
Cherry Reds are as good as ever.
Simple yet attractive design.
Approved by Ninjas in Pyjamas.
Cons
Relatively expensive for what it is.
Fairly niche.
KitGuru says: Xtrfy are onto a winner with the XG1-R LED. I would be very interested to see other models using the same on-board memory profiles.