Gaming peripherals manufacturer Thrustmaster has been setting the standard for Flight sim enthusiasts for quite some time and to celebrate the release of the DCS: F-16C Viper module, the company has announced the launch of the HOTAS magnetic base and HOTAS Add-On Grip for the F-16C Viper.
Both new additions are based around the popular HOTAS Warthog Flight Stick and will provide the opportunity for Flight Sim fans to customise and build their dream setup. With the HOTAS base now being available to purchase on its own, allows flight simmers to use any of their favourite Thrustmaster add-on flight sticks with the HOTAS Magnetic Base. The HOTAS Magnetic Base pays homage to the HOTAS Warthog Flight Stick's 10th anniversary with an eye-catching logo design.
The HOTAS Magnetic Base features a detachable metal plate for desk or cockpit-style use and Hall Effect AccuRate Technology, with 3D magnetic sensors for ultimate precision that won't decrease over time. The base is compatible with all flight simulator games and Thrustmaster flight stick grips including the HOTAS Cougar, HOTAS Warthog, F-16C Viper and F/A-18C Hornet.
Also available is the F-16C Viper HOTAS Add-On Grip which is a life-size scale replica of the real F-16C Viper Flight Stick to coincide with the recent, early access launch of the F-16C Viper module in the DCS combat flight sim game.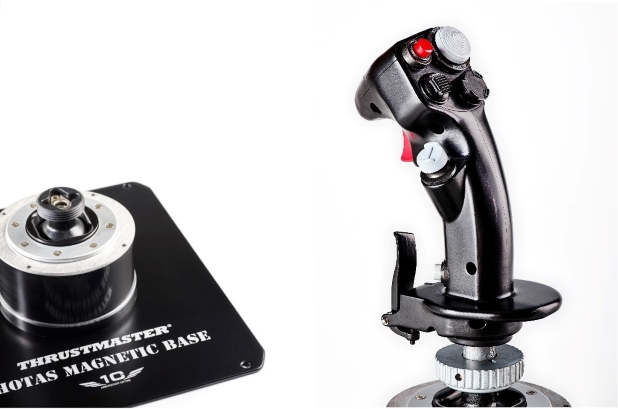 "The Thrustmaster F-16C Viper™ HOTAS Add-On Grip is my stick of choice for the DCS: F-16C Viper module. It feels and operates just like the real F-16C control stick, and it has exceptional quality, price, and durability." Said Matt "Wags" Wagner, Executive Producer, Eagle Dynamics.
The F-16C Viper HOTAS Add-On Grip is a life-size, 1:1 scale replica of the real F-16C Viper stick manufactured with a 100% metal design, incorporating durable, industrial-grade materials for an authentic feel. It includes 19 action buttons, an eight-way POV hat switch and features native integration in the game DCS via the DCS: F-16C Viper module. The F-16C Viper HOTAS Add-On Grip is backwards compatible with HOTAS Warthog and HOTAS Cougar joystick bases too.
Pre-order of the HOTAS Magnetic base and F-16C Viper HOTAS Add-On Grip will begin on 15th January 2020 from the Thrustmaster e-Shop worldwide. The HOTAS Magnetic Base will be priced at £119, while the F-16C Viper Add-On Grip will be £169.99.
Discuss on our Facebook page HERE.
KitGuru says: All the hardcore flight simmers out there, what do you think to these new products from Thrustmaster? Any of you thinking of pre-ordering them in the new year?