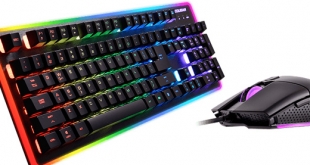 Getting a set of quality peripherals can often set you back a fair chunk of cash – and that's on top of the cost of your PC. Cougar realise this and hope their Deathfire EX keyboard/mouse combo can provide a good alternative to buying the latest peripherals separately. Priced at £49.99, the Deathfire EX combo features a 'memchanical' keyboard and a lightweight gaming mouse – but are they any good?
It is true the latest-and-greatest peripherals can cost a lot – just look at the ASUS ROG Claymore (review HERE) which is priced at a whopping £199.99!
While the Cougar Deathfire EX keyboard/mouse combo won't be able to offer the same feature set or build quality, it is much cheaper – coming in at £49.99. For this price we would still expect solid performance, though, so let's dive right into the review and see just how good this keyboard/mouse combo really is.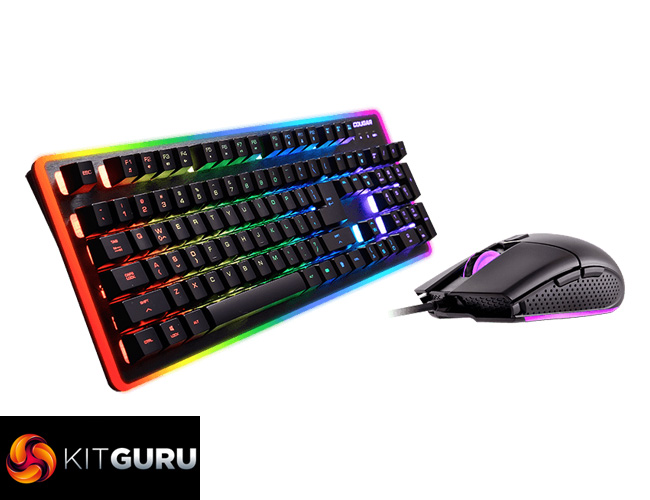 Specifications
Keyboard:
Dimensions: 448 x 140 x 43 mm (W x D x H)
Weight: 0.8 kg
Colour: Black
Keys: Mechanical hybrid switch
Layout: UK
Lighting: LED backlight with 8 effects (Rainbow 1, Rainbow 2, Breathing, Wave, Constant, Rhythm, Customize, Ripple)
Connection: USB
Cable length: 1.6 meters
Anti-Ghosting: for up to 19 keys
Mouse:
Dimensions: 120 x 65 x 38 mm (L x W x H)
Weight: 100 g
Colour: Black
Sensor: Optical sensor (ADNS-5050)
Resolution: 500, 1,000, 1,500 or 2,000 dpi
Buttons: 6 (incl. Mouse wheel)
Sample rate: 1000Hz / 1ms
Layout: Ambidextrous Design (two-handed operation possible)
Key switch: Omron switches (min. 5 million clicks possible)
Lighting: Breathing (Cycle) or static (white, yellow, blue, orange, turquoise, green, violet, red)
Connection: USB
Cable length: 1.6 meters


Be sure to check out our sponsors store EKWB here