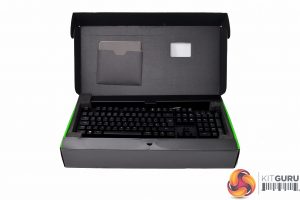 The Razer BlackWidow Elite ships in the typical keyboard packaging we've all come to expect. Things are kept simple, with large images of what you'll find inside. The box flips open and you'll find the keyboard itself alongside accompanying accessories.

Accessories include a magnetic wrist rest and the usual quick-start guide and Razer stickers.
Moving on to the keyboard itself, we can see that the BlackWidow has gone through quite the design change this time around. While past revisions of the BlackWidow have been primarily built out of plastic, Razer has opted for a more premium design for the Elite. Instead of plastic housing, you'll find a brushed aluminium face plate at the top, which removes any keyboard flex from the equation. You will still find a plastic body underneath, but it feels a lot sturdier compared to other versions of the BlackWidow.
The BlackWidow Elite shares a lot of design traits with one of Razer's other keyboards – the Huntsman Elite, which we reviewed last year. You get the same sturdy design, the same overall key layout and dedicated media buttons.
Aside from switch types, the main differences here are that the BlackWidow has USB and audio pass-through ports whereas the Huntsman did not. The BlackWidow's wrist rest is also different, as it does not connect to the keyboard for additional RGB lighting.
Due to the USB and audio pass-through ports, there are three lengthy cables to be found coming out of the BlackWidow Elite – 1x USB for the keyboard itself, 1x USB for the pass-through port and 1x audio cable for the headphone jack.
The cables here aren't detachable, but they are braided and fairly thick, so there is ample protection.