Ultra-high-definition televisions with 8K (7680*4320) resolution are expected to hit the market only sometimes in 2018, but Sharp this week introduced its new ultra-high-definition television that promises to upconvert FHD and 4K UHD video to virtual 8K resolution with the help of complex graphics rendering algorithms. The new TV also uses Sharp's RGBY panel with four colour subpixels.
The Sharp Aquos 4K Next LC-80XU30 television features an 80" LCD panel with 3840*2160 resolution, LED back-lighting and 176°/176° viewing angles. The TV utilizes Sharp's proprietary panel technology that features four colour subpixels – red, green, blue and yellow – instead of three. Such panels have been used by Sharp in a number of high-definition TV models for years, but this is the first time when the company utilizes its RGBY technology for ultra-HD televisions.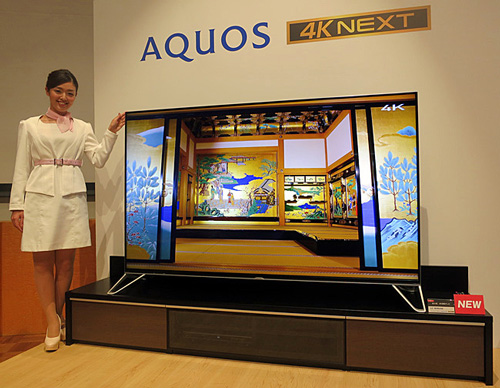 Sharp believes that the addition of the yellow subpixel increases the range of displayable colours. Since in the HD era industry-standard colour spaces (in particular, the ITU-R BT.709 aka Rec. 709) used by content makers featured only three colour channels with 8-bit depth per sample, the fourth physical subpixel was not supposed to be utilized because of the lack of appropriate source material. Still, the fourth colour channel could be created digitally using a powerful video processor.
The UHD era does not bring the fourth colour channel to video, but since the ITU-R BT.2020 (aka Rec. 2020) set of recommendations support a bit depth of either 10-bits per sample or 12-bits per sample, it is clear that the Rec. 2020's colour space is wider compared to that of the Rec. 709. As a result, it should be possible to create the fourth colour channel digitally using a video processor with a higher accuracy.
The Sharp Aquos 4K Next LC-80XU30 television also has a powerful X8-Master Engine Pro system-on-chip that can upconvert content in full-HD (1920*1080) and 4K UHD (3840*2160) resolutions to 8K UHD (7680*4320) internally and then display it on the 4K screen, which improves quality and adds details not seen on typical 4K TVs. While Sharp does not discuss algorithms it uses, they should be similar to traditional super sampling antialiasing as well as recently introduced AMD's VSR (virtual super resolution) and Nvidia's DSR (dynamic super resolution) technologies. Sharp's RGBY panel could theoretically be instrumental in such virtual upconversion, but Sharp does not explicitly confirm this. To further enhance quality, the TV supports Sharp's Mega Contrast technology.
Like other premium TVs, the Aquos 4K Next LC-80XU30 features 6-channel audio sub-system. The TV has HDMI 2.0 connectors with HDCP 2.2 content protection technology, it fully supports decoding of H.265/HEVC ultra-high-def video streams and is THX 4K display certified. The Aquos 4K Next LC-80XU30 seems to be ready for upcoming Ultra HD Blu-ray players.
The Sharp Aquos 4K Next LC-80XU30 will hit the market in early July. Initially, Sharp will produce only 200 of such TVs per month, but if the demand picks up, it may boost its output. The price of the 80" premium TV will be around ¥1.680 million (£8862, $13879, €12493), according to smhn.info.
Discuss on our Facebook page, HERE.
KitGuru Says: Upconversion to virtual 8K resolution in a bid to improve quality and add details could be a nice marketing trick to differentiate from the rivals. While the Sharp Aquos 4K Next LC-80XU30 will hardly ever show up in the U.S. or the U.K., the virtual 8K upconversion is clearly a thing to watch on other TVs going forward. The question is whether such feature will be useful for those, who want to watch their UHD movies the way they were meant to be watched by producers and directors? Hardly.