Sharp Corp. this week demonstrated what it calls the world's first television that supports all requirements of 8K super hi-vision broadcast. The LCD TV supports 7680*4320 resolution and is not expected to hit the market until 2018, when Japan Broadcasting Corp. (Nippon Hoso Kyokai, NHK) starts to broadcast in such ultra-high-definition standard.
The 8K*4K TV from Sharp is 85" in diagonal and features 120Hz refresh rate, reports Hermitage Akihabara. Previously all TV makers, including Sharp, Samsung, and others, demonstrated prototype 8K televisions or even custom-made displays. Sharp is the first to show off an 8K UHDTV that is compliant with NHK's requirements.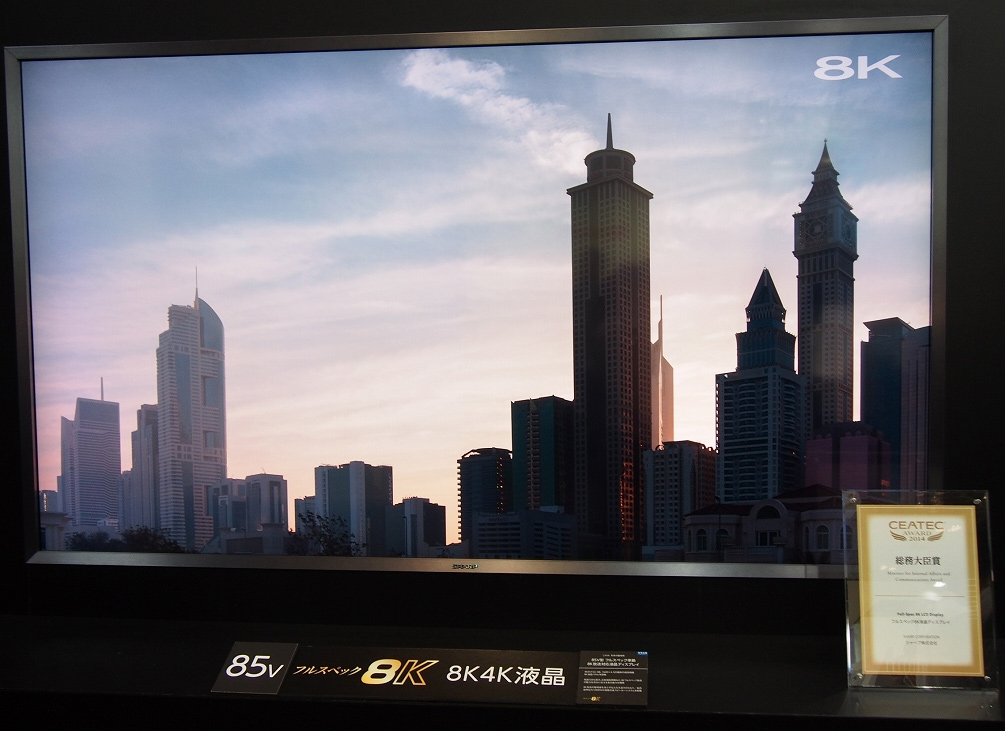 NHK has been developing 8K (7680*4320 resolution, four times higher than the 4K and 16 times higher compared to contemporary full-HD) format since 1995. NHK plans to start test 8K super hi-vision broadcasting in 2016 during translations of the Rio de Janeiro Olympics. The company intends to start commercial 8K broadcasting in 7680*4320 resolution and with advanced multi-channel audio in 2018.
In a bid to truly take advantage of 4K and 8K ultra-high-definition TVs, content made in such resolutions is required. While Japanese companies have invented equipment needed for production, broadcasting and showcasing of video in 8K format, one thing that is still missed is an optical disk standard to distribute content. Sony and Panasonic are working on a new optical disc technology with recording capacity of at least 300GB; the specification should be ready by late 2015.
Discuss on our Facebook page, HERE.
KitGuru Says: It is necessary to say that Hollywood is surprisingly inactive when it comes to UHD in general. There are not a lot of movies in 4K resolution and it unknown whether anything is prepared for 8K hardware that is incoming…