Advanced Micro Devices will introduce the first chips that belong to the Skybridge family of accelerated processing units (APUs) and system-on-chips (SoCs) in the third quarter of next year, according to unofficial information. Initially the project Skybridge offerings will target ultra-low-power applications, such as tablets.
AMD's Skybridge family of APUs and SoCs are pin-to-pin compatible offerings based on AMD's x86 "Puma+" or ARM's Cortex-A57 cores as well as AMD Radeon graphics powered by the GCN 1.2 technology with all heterogeneous system architecture (HSA) enhancements. The new chips will be made using 20nm fabrication process, but it is unknown at which foundry.
Both project Skybridge offerings – the x86-based Nolan and the ARM-powered Amur – will be released in the third quarter of 2015, reports DigiTimes web-site. It is unclear when devices based on the chips become available on the market.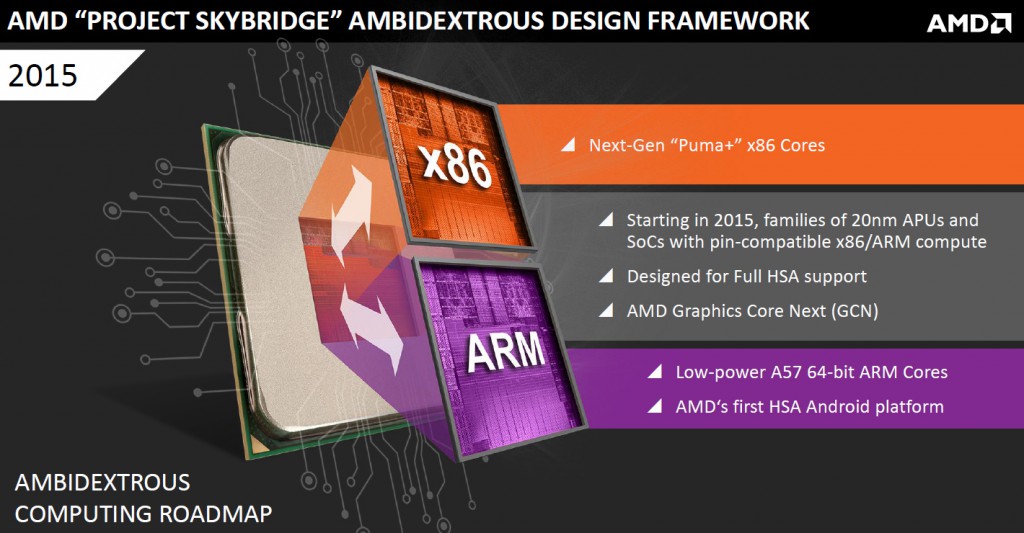 Thanks to the fact that the Skybridge chips will be pin-to-pin compatible with each other, it will be possible for device makers to take advantage of any general-purpose processor architecture. For example, for Android-based tablets ARM chips are preferable since all Android programs are optimized for ARM; by contrast, Windows-based solutions will likely take advantage of x86 chips.
AMD's Amur solution will be the company's first platform designed specifically with Google Android operating system in mind. Considering the fact that by the time it emerges on the market 64-bit chips for Android tablets will be available from many vendors, AMD will not have any exclusive advantages with its Amur. Still, it will be interesting to see how AMD's HSA capabilities and GCN 1.2 graphics architecture improve Android-based devices.
AMD did not comment on the news-story.
Discuss on our Facebook page, HERE.
KitGuru Says: It should be noted that the competition on the market of chips for tablets is heating up. In addition to MediaTek and Qualcomm, companies like Intel, Nvidia and Rockchip are getting more aggressive. As a result, AMD risks to enter the market affected by price-wars next year…