Thanks to dropping manufacturing costs leading to declines in average selling prices (ASPs), shipments of ultra-high-definition (UHD) desktop monitors with 4K resolution are expected to increase steadily this year. In the coming years, displays with UHD will continue to lose price and gain adoption, according to NPD DisplaySearch.
Unfortunately, 4K monitors will not become truly popular this year. Of 133 million desktop displays set to ship in 2014, only two million will feature 3840*2160 or similar resolution, which is around 1.5 per cent of the market. Nonetheless, thanks to dropping prices, by 2017 shipments of UHD displays are forecast to reach approximately 8% of the market.
At present 4K monitors are primarily aimed at applications like computer graphics, photo processing, CAD/CAM, and multi-operation environments; however, as ASPs decline, the 4K market will expand to include standard office operations that require more data on a single screen. The ASP for UHD displays is forecast to decline from $1347 in 2014 to $927 in 2017. Moreover, as consumers get aware of ultra-high-definition, manufacturers will fight for them with lower prices.
"Increased 4K-class monitor shipment volume will depend on how far and how fast ASPs decline," said Hidetoshi Himuro, director of PC and IT research at NPD DisplaySearch. "Although manufacturers hope to raise prices for 4K-enabled monitors, price competition has already begun."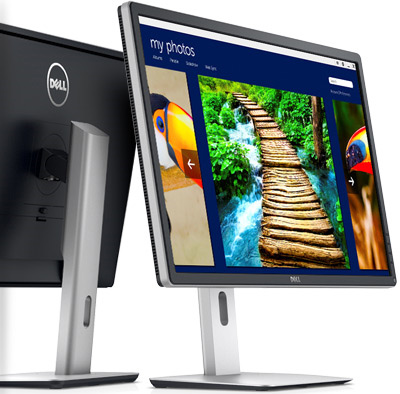 Initial 4K monitors from Sharp, Asustek Computer, Dell and other brands include 23.8″, 28″, and 31.5″ sizes. With many 4K monitors smaller than 30″ launching in 2014, 27″ is expected to be the average 4K monitor display size.
Recently Dell started to sell its P2815Q display with 3840*2160 resolution for $699. The product utilizes anti-glare TN panel technology that features 5ms response time (grey-to-grey), 30-bits colour depth (1.073 billion colours) and 300cd/m2 brightness; the monitor comes with DisplayPort/mDP v1.21 as well as HDMI 1.4/MHL 2.0 inputs and an integrated USB 3.0 hub. While the display formally supports UHD resolution, it does so only with 30Hz refresh rate, which is enough for movies and productivity applications, but is not enough for gamers who demand higher refresh rate (i.e., 60Hz).
The majority (56%) of 4K monitor demand in 2014 will come from advanced regions, like Japan, North America, and Western Europe.
KitGuru Says: While two million is hardly a lot, it should be enough for professionals and some owners of high-end/enthusiast-class graphics cards that cost $399+. Moreover, predictions of NPD DisplaySearch that it reveals early in the year are often pretty conservative. Therefore, in case the economic situation does not get tougher, then shipments of such displays may be higher than two million.