AOC is upgrading its G2 series of high refresh rate, affordable gaming monitors this month. As part of the new line-up, we have two displays with 1080p resolution and a 144Hz refresh rate, and another two cheaper options with a 75Hz refresh rate. Each display also packs FreeSync and an IPS panel.
The G2 series consists of four Full HD 1920×1080 monitors. Two 27" variants, the 27G2U and 27G2U5 are backed up by two smaller 23.8" versions named the 24G2U and 24G2U5. Both the 27G2U and 24G2U are capable of a 144Hz max refresh rate, while the 27G2U5 and 24G2U5 offer a 75Hz refresh rate. All four displays are AMD Freesync compatible and boast a 1ms MPRT response time to eliminate motion blur in fast paced gaming situations.
The 27" 27G2U and 23.8" 24G2U feature IPS panels with 120% and 126% sRGB colour gamut respectively. Along with the 144Hz refresh rate and 1ms response time these models will naturally appeal to competitive gamers requiring smooth gameplay at a fast pace. Fans of slower paced games may opt for the 75Hz models which will obviously come in at a reduced price while still featuring IPS panels with 178° viewing angles and Freesync support.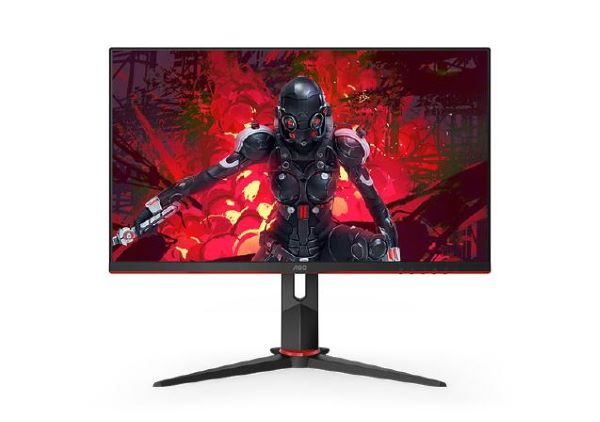 Additionally, the G2 series incorporates several other features, including low input lag times so user will see their actions playing out on screen without a noticeable delay. The G2 series includes AOC Game Colour adjustments to increase or decrease colour saturation and using the Dial Point option, users can place a crosshair in the centre of the screen to help with aiming.
All four models in the G2 series offer two HDMI connections, one DisplayPort and a VGA input port for connecting older, legacy machines. An integrated 3.5mm output allows users to connect their headset of choice, or you can use the integrated 2w speakers. A built in USB hub gives the option to connect USB devices such as a mouse and keyboard to the monitor, freeing up extra ports on the back of your motherboard.
The 144Hz  27G2U and 24G2U will be available at some point in September for £179 and £229 respectively. Meanwhile with the 75Hz 24G2U5 and 27G2U5 are due to begin shipping in October for £149 and £189 respectively.
Kitguru says: AOC seem to have the knack of producing high spec gaming monitors at a reasonable price. Do many of you own a high refresh AOC monitor?