The AOC G2460PG G-Sync 144Hz 1ms Gaming Monitor will make a tempting upgrade for many enthusiast gamers, especially when factoring in the modest sub £350 asking price. AOC have earned a solid reputation in the last year for producing some quality panels at very competitive price points.
The G2460PG has been designed from the ground up for the gaming audience who want a high refresh display without breaking the bank balance. There is no doubt that the Asus ROG Swift PG278Q which we reviewed earlier this month is a superior panel, although it is more than twice the price.

AOC have succeeded in bringing a cost effective 1080p 144hz panel to market. The Asus ROG Swift PG278Q runs at a higher 1440p 144hz resolution, however the demands placed on the partnering graphics hardware are also increased.

The PG278Q will need a GTX780Ti to get high frame rates at 1440p, but the G2460PG panel reviewed today will work well with a more cost effective GTX770 solution. Granted you probably wouldn't be running at a solid 144 frames per second at 1080p in the newest Direct X 11 titles, but Nvidia G-SYNC is designed to remove any signs of tearing when the frame rate fluctuates dramatically.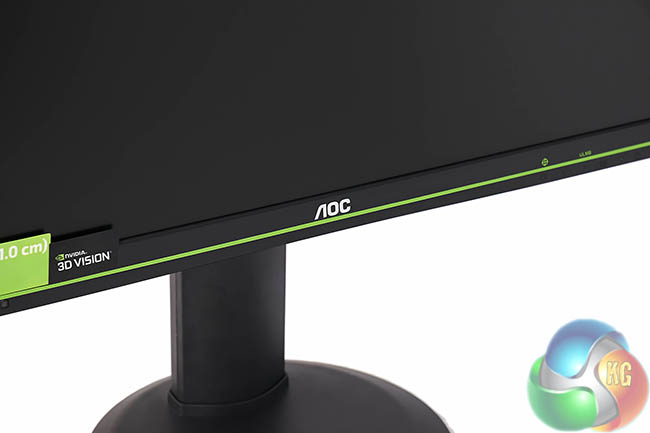 The AOC G2460PG image quality is reasonably good, and the viewing angles for a TN panel are commendable. The stand system works well, offering tilt, pivot and portrait mode orientation without any hassles. We also love the appearance of the screen itself, the green sports stripe is attractive, and a good immediate indication it was designed to partner with Nvidia hardware.
We rate Nvidia's G-SYNC highly. It does cope well with rapidly fluctuating frame rates and while we know everyone will perceive motion differently we have no complaints with the smooth, lag free image quality when gaming. Depending on the system you have available and the frame rates you want to achieve, some experimentation with image quality settings will be required.
We are awarding the AOC G2460PG G-Sync with our WORTH BUYING award today. The image quality is good enough to satisfy the gaming audience who are more interested in super smooth frame rates and the new G-SYNC support. Colour critical designers and photographers should look elsewhere, possibly at a more expensive IPS panel.
You can order the AOC G2460PG G-Sync 144Hz 1ms Gaming Monitor now from Overclockers UK, for £347.99 inc vat. It will be released around the 11th August 2014.
Discuss on our Facebook page, over HERE.
Pros:
Excellent price point.
G-SYNC is great.
1080p resolution won't be so taxing of the graphics hardware.
looks fantastic.
Cons:
On screen menu system is quite ugly.
Overall image quality isn't remarkable.
Kitguru says: A great package for the price, with G-SYNC support and 144hz refresh rate.