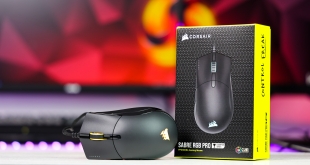 Today we're looking at a brand-new, affordable, lightweight mouse aimed at FPS and MOBA players. It boasts an insane 8,000Hz polling rate, with a price tag of £49.99. The mouse in question is Corsair's Sabre RGB Pro, and while it may share the same name, it is a complete re-design of the original Sabre that launched several years ago. Is this new mouse any good? Let's find out.
Watch via our Vimeo channel (below) or over on YouTube at 2160p HERE
Timestamps:
00:00 Start
00:15 Andy's thoughts
02:13 Sabre RGB Pro details / cable
02:59 Design overview
03:30 Grip – gloss bar/plastics
04:01 DPI indicators / scroll wheel
05:06 Front / underneath / ergonomics
06:03 Design comparisons
06:51 Build Quality / buttons
08:53 Sound test / comparisons
09:36 Sensor and lift off Distance discussion
10:31 8000hH Polling rate – CPU load and real world testing
14:53 iCue Software update
15:59 Closing Thoughts
Specifications:
Black matte finish with gloss accents
Right-handed ergonomic shape
PixArt PAW3392 sensor – optical
100 – 18,000 DPI
LED DPI indicators
Quickstrike buttons with zero gap for instant actuation
2-Zone RGB
2.1m USB 2.0 Type-A non-removable cable
Up to 8,000Hz hyper-polling
100% PTFE feet
129 x 70 x 43mm
74g weight

You can purchase the Corsair Sabre RGB Pro for £49.99 from Overclockers UK HERE.
Discuss on our Facebook page HERE.
Pros:
Excellent build quality.
Ergonomic shape is incredibly comfortable.
Quickstrike buttons work perfectly, almost no pre or post-travel.
8,000Hz polling rate really feels like it gives you an edge.
Brilliant price point and a non-RGB version available for £5 less.
Cons:
8,000Hz polling rate is most noticeable with high-refresh rate monitors and high-end gaming PCs.
Gloss accents pick up grease and fingerprints.
KitGuru says: We absolutely love the Sabre RGB Pro by Corsair. The price point is excellent coming in at £49.99 for the RGB version or £44.99 for the non-RGB version which is also 5g lighter. For the money, you're getting an all-round excellent mouse.
Be sure to check out our sponsors store EKWB here