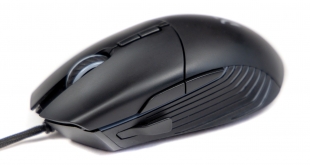 In a world saturated with gaming peripherals, laced with RGB rainbows, what can Dream Machines bring to the table that hasn't been done before? The new DM5 Blink certainly has created its own seat amongst the table and demands attention. The thinnest, lightest cable we've ever seen, one of the best optical sensors available, RGB zones that even Unicorns will turn to look at and a price point we just can't get our heads around. Is the DM5 Blink the best budget gaming mouse on the market? We think it is in with a good shout!
Watch via our Vimeo channel (below) or over on YouTube at 2160p HERE
Specifications:
Black plastic shell
Adjustable RGB zones that can be turned off via physical switch or via software
8 programmable buttons
DM SHOT thumb button
Downloadable software
95g
12.5cm X 6.6cm X 4.2cm
Pixart 3389 optical sensor
DPI 400 – 16,000
Polling Rate 125hz – 1000hz
No acceleration
L.O.D. (Lift Off Distance) 1.8mm
The Dream Machine DM5 Blink can be found on sale for €38.99 (approx. £34) HERE.
Pros:
Aggressive gamer aesthetic.
Very affordable €38.99 (approx. £34).
Very comfortable.
Great, reliable sensor.
No acceleration.
RGB everywhere (can be turned off).
DM SHOT thumb button.
DM Shoelace cable.
Software is easy to use.
Cons:
Not the greatest build quality.
KitGuru says: The DM5 Blink has to be the most impressive budget mouse available on the market currently. Ergonomic, stylish, specifications that scream quality and an incredibly useful thumb button, this mouse is a gamer's dream and it's far from 'breaking the bank' territory. We love the DM5 Blink and we think you will too, definitely check this one out if you're in the market for a reliable, solid, RGB mouse. 
Be sure to check out our sponsors store EKWB here