The Aorus Gaming Box from Gigabyte will be getting a big boost in performance since the company announced it is launching a new version with Nvidia RTX 2080 Ti graphics. The Aorus Gaming Box offers users an ultra-quiet, external graphics solution.
Gigabyte has unveiled the world's first water-cooled external graphics. The Aorus RTX 2080 Ti Gaming Box is equipped with Nvidia's most powerful Turing based GPU. The new version is more of an update rather than a brand-new product but for the first time, the Aorus Gaming Box is built with the most powerful mainstream gaming GPU on the market right now.
The Aorus RTX 2080 Ti Gaming Box features the latest thunderbolt 3 high-speed transmission interface combined with Nvidia Turing based RTX 2080 Ti graphics, to provide powerful 3D gaming performance to Thunderbolt 3 capable devices, along with real-time ray tracing and deep learning.
Gigabyte's Aorus RTX 2080 Ti Gaming Box includes an Aorus Waterforce built-in cooling system to combine performance with comfort, allowing users to enjoy an ultra-quiet and comfortable environment while performing heavy 3D workloads. The Aorus Waterforce solution is an all-in-one cooling system that cools not only the GPU core but the VRAM and MOSFET also, to ensure stable operation and longer lifespan with its copper cold plate and 240mm radiator.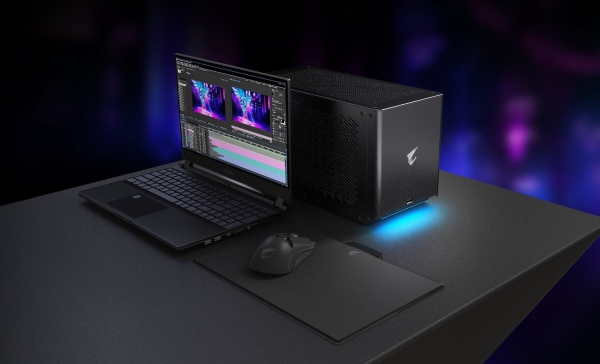 A Thunderbolt 3 capable laptop can be transformed into a high-performance gaming platform, capable of real-time ray tracing when connected to the Aorus RTX 2080 Ti Gaming Box. The new box also features a built-in wired network connection so users won't have to rely on Wi-Fi while gaming with the Aorus RTX 2080 Ti Gaming Box.
RGB ambient lighting is another feature of the Gaming Box and users can control lighting colours and patterns with Gigabyte's RGB Fusion software. For creators, the Aorus RTX 2080 Ti Gaming Box accelerates work with a huge boost in performance, whether its video editing, 3D animation, photo editing or graphic design, the Aorus Gaming Box can save a lot of time.
According to Gigabyte, the Aorus RTX 2080 Ti Gaming Box is powerful enough to replace the GPU in any laptop currently on the market. Nvidia RTX 2080 Ti GPUs include 11 GB memory with 616 GB/s bandwidth, they feature 4352 CUDA cores and hundreds of Tensor cores to provide enough power to bring GPU-accelerated artificial intelligence and machine learning to a laptop PC.
Discuss on our Facebook page HERE.
KitGuru says: The Gigabyte Aorus RTX 2080 Ti Gaming Box certainly should provide enough performance to bring a high-end laptop up to the level of some of the top desktop gaming PCs. Although when a laptop is connected to external graphics like the Gaming Box, it becomes less portable.