The second match of the League of Legends Worlds 2019 semifinals was so impressive that it broke two records: the most-viewed match and the most hours watched across an esports event. The number of unique viewers was close to 4M and the number of hours watched was over 125M. These values exclude viewers from China and TV viewers.
The League of Legends world tournament is underway and the finals are not far off, coming on the 10th of November. In the knockout phase leading to the finals, in the second match of the semifinals, the European esports powerhouse G2 Esports faced and defeated the SKT T1 Telecom. Both teams were tipped to win this year's Worlds championship, and possibly because of that, two records were broken.
The match between G2 and SKT T1 was the most viewed in the history of esports, with a peak figure 3,985,787 unique viewers. This beats the second-most viewed match, the Fortnite World 2019 Finals, by around 1.6M viewers. As if the 4M viewers weren't enough, the value doesn't account for the total viewership since it only counts with viewers from platforms such as Twitch, YouTube, Naver, AfreecaTV, GarenaLive, Facebook and Naver. No TV viewers or viewers watching in Chinese platforms were accounted for.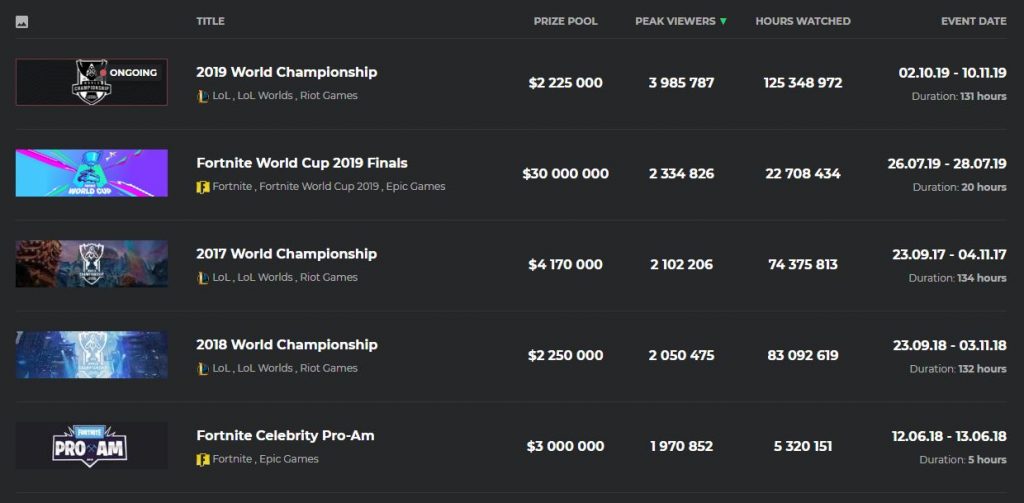 The other record that was broken is the "most hours watched" in an esports event. For LoL Worlds 2019, up until now, there have been 125,348,972 hours watched and there's still the finals to be played.
The number of unique viewers was for a semifinal match, leading many to believe that on the finals, in the upcoming weekend, this record will be shattered. For the "most hours watched" record, that number will undoubtedly increase. We will see by how much on November 10th, when the finals will be played.
If you want to watch the match between G2 vs SKT T1, click HERE.
Discuss on our Facebook page HERE.
KitGuru says: These numbers are proof that esports is here to stay. Do you watch esports? Did you watch the match?