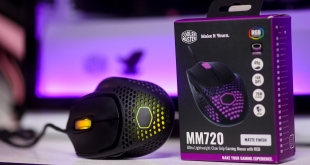 Today we take a look at the MM720 mouse from Cooler Master! Could this be the most comfortable lightweight mouse going? Weighing in at just 49g it is insanely light, with a PixArt PMW3389 sensor, LK optical switches and an 'ultraweave' cable. Is it worth the £59.99 price tag? Let's find out.
Specifications:
Product number: MM-720-KKOL1 (Black Matte), MM-720-WWOL1 (White Matte), MM-720-KKOL2 (Black Glossy), MM-720-WWOL2 (White Glossy)
Mouse grip type: Claw, Palm but works with all
Mouse material: ABS, PTFE
Mouse color: Black, White
Surface treatment: Matte, Glossy
Mouse led backlight: 2-zone RGB
Mouse Sensor: PixArt PMW3389
DPI: 7 Levels (400, 800, 1200 default, 1600, 3200, 6400, 16000)
Mouse tracking speed: 400 IPS
Mouse lift off distance: < ~2mm
Mouse polling rate: 1000Hz
Mouse acceleration: 50g
L/R Micro switch: LK optical micro switch, 70M
Encoder: LK optical encoder
Mouse buttons: 6
Mouse cable length: Fixed Ultraweave cable, 1.8m
Software: Yes, Cooler Master MasterPlus+ Support
Mouse dimension: 105.42 x 76.52 x 37.35mm
Mouse weight: 49g/0.108lbs
You can purchase the Cooler Master MM720 for £59.99 HERE! 
Discuss on our Facebook page HERE.
Pros
Nice shape and support.
Little drag but depending on preference and grip style, users can get drag if wanted.
Well balanced.
Works with all grip styles.
Good for small hands but also comfortable for larger hands.
Super lightweight.
No sharp edges.
Quality side buttons.
On the fly DPI button with LED indication on mouse wheel.
Bright RGB.
On the fly RGB adjustments.
IP rated.
Cons
Took a small amount of time to adjust to.
Can engage side buttons if squeezed hard enough.
Slightly soft increments in the mouse wheel.
Spongy mouse wheel click.
KitGuru says: The shape might not be for everyone, but if you liked the Spawn or just want to try something new, it is hard to argue with the overall package here.
Be sure to check out our sponsors store EKWB here