The Corsair Scimitar RGB Pro is everything that was great about its predecessor and more. It is fast, accurate, incredibly comfortable and backed up by the best version of Corsair's Utility Engine to date. Not only that, but its bevy of side buttons make it perhaps the most functional mouse in the world, letting you heavily customise its commands to your desires.
That is not to say that this mouse is perfect for all situations. The Scimitar Pro is a very specialised mouse and though it works great for FPS and strategy gaming, it is definitely better suited for MOBA and MMO scenarios. If you play those primarily and play other genres on occasion, this could well be the perfect mouse for you. If you are more of a shooter player, there are likely better choices out there for you.

But that is certainly not because the Scimitar Pro RGB is lacking. Far from it. It hits just about every note perfectly. Its sensor, capable of 16,000 DPI in single DPI increments, is complete overkill, but will last you right through your next few monitor upgrades and beyond. It works on multiple surfaces – which is always impressive for an optical sensor – and the PTFE feet mean it moves smooth as silk across them all.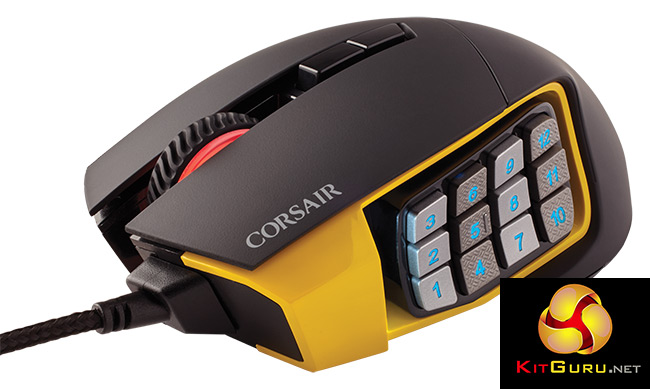 The lighting is excellent too, so is the simplicity of the CUE back end software making it easy to change up your colour preferences and button remaps in no time at all.
If I was to complain about anything, I could perhaps say that my thumb drags a little when holding the mouse near the base or going to press the bottom buttons and that the big keypad takes some learning to get used to, but those are hardly real problems. I am reaching to find anything wrong with this mouse – it is close to perfect.
Corsair has created what I would consider the ultimate in MMO/MOBA gaming mouse. If you are in the market for one, this is about as good as it gets.
The Corsair Scimitar Pro RGB is available for pre-order at Overclockers for £75. We do not have a hard shipping date yet, but it is expected to be within the next few weeks.
Discuss on our Facebook page HERE.
Pros
16,000 DPI optical sensor is complete overkill, but works flawlessly.
One of the most comfortable mice I have ever used.
12 button side panel gives near-unparalleled function.
Supports Finger and palm grip, and to some extent claw.
Looks great.
Corsair's back end (CUE) software update makes it super easy to use, but deep and functional.
Cons
Not ideally suited for non-MOBA, MMO gamers.
Claw grip does not work as well as others.
Could be a bit heavy for those with weak wrists.
KitGuru Says: I love everything about the Corsair Scimitar Pro RGB. I love how it looks, how it feels and how it plays and I am far more a fan of ambidextrous, lightweight designs, so this is something really special. If you want the best MMO/MOBA gaming mouse I have ever used, buy the Corsair Scimitar Pro RGB.