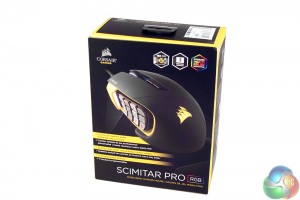 The packaging for the Corsair Scimitar Pro RGB is of the same sort of quality we have come to expect from Corsair: stocky, black and accented with colour (the yellow itself a refreshing change of pace from the usual gaming red) as well as high-quality imagery. This box does not disappoint, giving us a run down of the most important features, as well as a close up look at the Scimitar Pro itself.

You can flip the box open for a better look at the mouse and there are further details on the back, alongside a rousing endorsement from professional World of Warcraft player, Jackson "Bajheera" Bliton.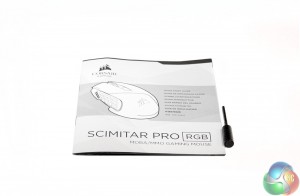 Unless you are swapping out weights, you do not need a lot of accessories with a mouse and the Scimitar Pro is a great embodiment of that. It has a set up manual and a screwdriver, used only for adjusting the placement of the side-panel buttons.