The Cooler Master CM Storm Sentinel III comes in an appropriately sized box with a magnetic flap on the front, revealing the mouse inside. The back of the box, on the other hand, boasts key features, such as the palm grip design, weight adjustment system and re-programmable buttons.
As you can see, the mouse offers an ergonomic shape for right handed users. There is also a nice long braided USB cable which is a welcome addition, along with the extra buttons and OLED display.
In addition to the two buttons on the side, there are three more buttons on top, two at the base of the scroll wheel and one just in front of it. These can be used as DPI toggles or programmed to whatever function you find useful.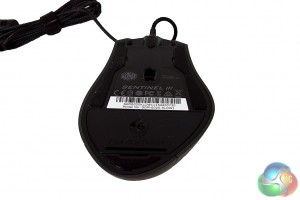 The weight tuning system can be accessed via the flap the bottom of the mouse. There are five separate little 4.5g weights inside, allowing you to adjust things to your liking. This level of customization is always a highly appreciated feature.