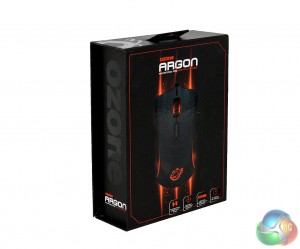 The Ozone Argon comes in pretty standard packaging, with a magnetic flap that opens up to reveal the mouse.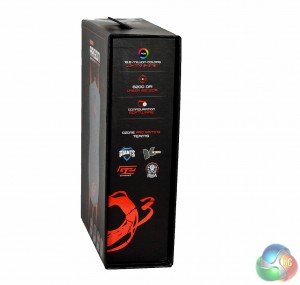 The side of the box lists all of the specifications of the mouse, including sensor type, overall weight and programmable buttons.
The inside of the box flap gives a more in-depth description of the Argon's features, of which there are quite a few.
As you can see from the image above, the Ozone Argon is an ambidextrous mouse, which means it will suit left- and right-handed use equally well. There are two buttons on either side of the mouse for that specific purpose.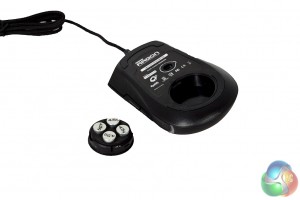 There are four extra weights for the mouse in total. They fit in to the bottom of the mouse and are closed in with a rotating plastic cover that locks into place.
The mouse itself is covered in a soft-touch plastic, with rubber grips on either side. The Argon fits naturally in the hand, though the rubber grooves can attract dirt pretty easily. Aside from that, the mouse connects via USB and has a long braided cable, which is always a bonus.