First up in our testing is the SteelSeries Engine 3 software, which offers unlimited cloud storage for mouse profiles and is also home to all of the Sensei Wireless's customisation options.
All of the options are crammed on to one window. You can see that the mouse defaults to 1,600 CPI before you hit the CPI toggle button and then 3,200 CPI afterwards.
I found 1,600 wasn't sensitive enough but 3,200 was perfect. if you need a higher sensitivity then the mouse can go all the way up to 8,200 (16,400) but I seriously doubt anyone is going to need that kind of sensitivity level.

Creating / editing the macros was very easy, allowing you to change the amount of delay between actions. More serious gamers will likely find this feature useful.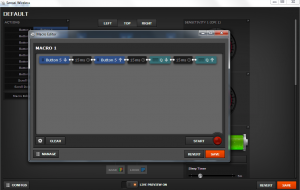 The SteelSeries Engine software allows you to customise every aspect of the experience. You can set up your acceleration and deceleration speeds, polling rate and even lift distance- making it a good choice for competitive or professional gamers.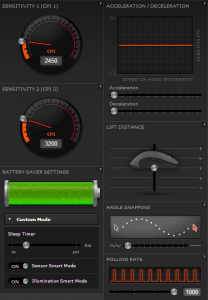 I found the battery saving features to be very useful. I set my sensor to go to sleep after five minutes of inactivity … this allowed two days on a single charge. The only issue I had when it came to battery life was that there was no precise way to analyse the remaining power. The Sensei Wireless dock will glow green anywhere between 31% and 100% battery, which is a bit too broad for my liking. An exact percentage indicator via the software in Windows would have been helpful.
SteelSeries boasts 16.8 million colour lighting options, which sounds impressive but unfortunately, I found the lighting to be quite underwhelming. White light actually comes out blue while yellow ends up with a reddish tint. Most other colours work well but the lights aren't quite as impressive as the packaging would have you believe.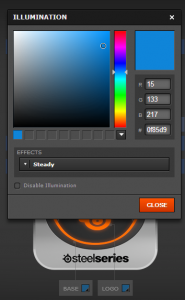 The lighting defaults to red on the mouse, which is easily changed. You can even set up a couple of different effects. You can have the mouse and dock display the colour of your battery level, a solid colour of your choice or you can have a breathing/pulsing effect.
Now that the software is out of the way, lets talk about actual performance. The Sensei Wireless does not disappoint, it is a fantastic mouse. I found it to be lightweight and extremely accurate.
This mouse promises a 1MS response time, while we don't have the equipment to measure that we can tell you that we did not experience any input lag and plugging in the cable didn't noticeably improve the experience.
The Sensei Wireless is marketed as a tournament grade gaming mouse and it is clear that SteelSeries did their research to work out the perfect formula for most gamers. There aren't an insane amount of buttons but there is enough to keep most people happy – the classic mouse shape fits in the hand well.
Weighing in at 120 grams, the mouse is light enough to glide across the mouse mat with ease and aid your reflexes.