The Home Assistant connected device market seems to be massive in the United States, with an estimated 60.5 million users this year taking up the devices, according to a recent report from eMarketer (that's a little under 1-in-5 human beings in the country) . So it stands as no surprise that Harman Kardon has joined forces with Microsoft to build a Cortana-powered speaker-assistant, competing with the likes of Google (Home) and Amazon (Echo).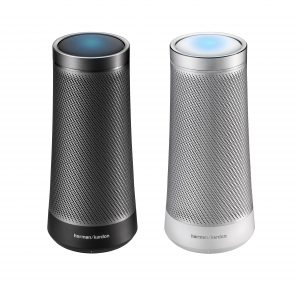 The device, now listed on the H/K website, is the vaunted Invoke personal digital assistant / intelligent speaker, which provides users with all sorts of Cortana-esque integration as welll as Skype calls, calendar management, traffic, home automation device control  and the ability for its user to utter commands and play back their favourite music.
The company has been cheap on technical details, but have disclosed that the speaker projects sound in a 360º arc around it. Inside, the Invoke sports 7 microphones that enable H/K's Sonique far-field voice recognition technology, to better pick up voice commands across the room. It also has a bit of mood lighting, depending on Cortana's activity, and what the company is calling a 'touch to surprise' user interface. It will also require Microsoft latest version of Windows 10 (i.e. Creators Update) to configure correctly, including the Skype integration which the brand claims to be an industry first.
The Invoke will be available in the US only, according to the manufacturer – but we understand this, as a lot goes into localizing one of these things – and you'll have to wait until the Fall. Pricing was not disclosed.
KitGuru Says: As H/K is a premium manufacturer, don't expect it to be at the same price level as Echo or Home. Still, Cortana has proven to be a very capable 'AI' assistant on mobile and desktop, and if Microsoft ported a fraction of its functionality, expect it to be a bit more versatile than its competitors.