How would you like to own a range of porcelain speakers sculpted to represent 'men of power'? No, it's not a question I ever thought I would be asking our readers either. Until I received an email tonight from one of the people involved in the project I never even knew they existed.



These are no disposal speakers to be hidden in the corner of a room behind a monitor however – these creamy white beauties are available in three different sizes – ranging in price from a wallet sapping 900 euros to a hernia inducing 29,900 euros.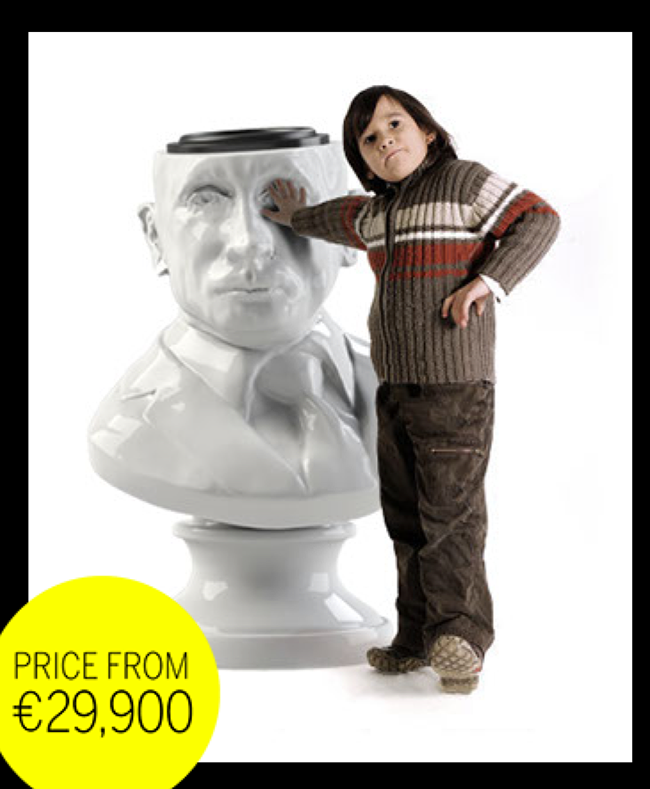 Petter Hjelmberg from Sweden emailed us tonight to say "I found inspiration on KitGuru when doing research on a project. This project is something I've been working on the last year, I've been helping my friend and artist Petro Wodkins to produce a coupe of quite spectacular speakers. Based on men of power, like Kim Jong-un, Putin and Mugabe, made like classic porcelain figurines, but in a modern version as desktop speakers. I think they turned out quite well.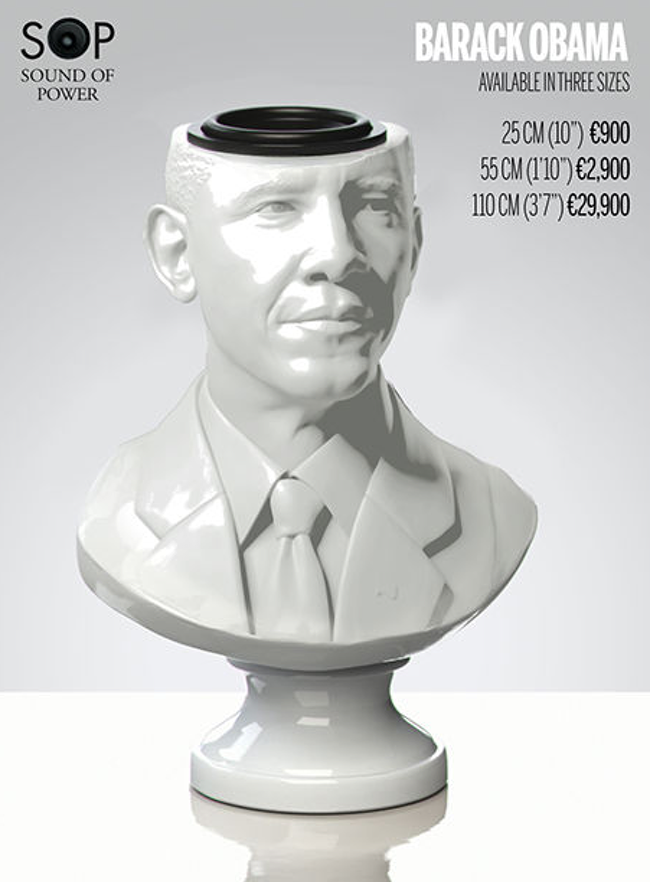 The biggest measures 110 cm high and cost €29,900. They are expected to ship in December."
So if you fancy adding a pair of porcelain speakers that look like Vladimir Putin, Kim Jong-Un, Robert Mugabe, Muammar Al-Gaddafi or Barack Obama you now have that option.
Each 'man of power' is available in three different sizes each equipped with very different speaker technologies.
25cm (10″) SOP = €900
Fountek FR89EX 3″ Full Range
4 ohm
87.4dB [email protected]
Neodymium Motor
Underhung motor design
5mm X-max (peak)
Low distortion
Coated aluminum cone
Cast aluminum chassis
Aluminum former and copper wire
55cm (1'10") SOP = €2,900
Markaudio Alpair-10A Gold 6″ Full Range Gen 3, with Excursion Arrestor
Alpair 10 Gen.3
T/S date LMS V4 Anechoic:
Revc= 7.200 Ohm
Fo= 38.266 Hz
Sd= 8.825K mm2
Vas= 26.320 Ltr
Cms= 2.380m M/N
Mmd= 6.792 g
Mms= 7.269 g
BL= 5.772 TM
Qms= 1.930
Qes= 0.378
Qts= 0.316
Levc= 71.379u H
No= 0.378 %
SPLo= 87.988 dB
Xmax = 7.5mm (1 way with Arrestor)
Power = 30 watts nom.
110 cm (3'7) SOP = €29,900
BEYMA 12GA50 – 12″ Full Range
Nominal Basket Diameter 12″ / 300mm
Impedance 8 ohms
AES Power Rating 250 Watts
Program Power  500 Watts
Frequency Response 70Hz – 18kHz
Sensitivity (1W/1m) 102dB
Voice Coil Diameter 2″ / 52mm
Recom. Enclosure Volume .7-2.45 ft3  /  20-70 Liters
Voice Coil Length 9 mm
Air Gap Height 7 mm
X Damage (peak to peak) 24 mm
BL Factor 10 N/A
Magnetic Assembly Weight 6.1 lb. / 2.75 kg.
Mounting Information
Overall Diameter 12.3″ / 312mm
Bolt Circle Diameter 11.6″ / 294.5mm
Baffle Cutout Diameter-
– Front Mount 10.9″ / 277.5mm
– Rear Mount 11.02″ / 280mm
No. Of Mounting Holes 8
Volume Displaced By Driver 0.19 ft3  /  5.5 Liters
Overall Depth 5.47″ / 139mm
Net Weight 7.81 lb. / 3.55 kg.
Shipping Weight 8.81 lb. / 4 kg.
Resonant Frequency (fs) 90 Hz
Impedance (Re) 6.2 ohms
Coil Inductance (Le) 0.6 mH
Mechanical Q (Qms) 14.8
Electrical Factor (Qes) 1.26
Total Q (Qts) 1.16
Comp. Equivelant Vol. (Vas) 1.2 ft3 / 34 Liters
Voice Coil Overhang (Xmax) 2.0 mm
Surface Area of Cone (Sd)m2 0.053
Reference Efficiency 2.1%
Displacement Volume (Vd) 105 cm3
All of the pieces are numbered and signed by Petro Wodkins himself.
If you want to pre-order a pair head to the official website at http://www.sound-of-power.com/.



Incidentally if porcelain is too bland for your tastes and you would rather see yourself as the speaker then they are able to create custom speakers in 24 carat leaf gold for €125,000.
Discuss on our Facebook page, over HERE.

Kitguru says: If any of our readers end up buying a pair – please do send us an email so we can follow up on this story. We are dying to know what they sound like. Sadly, they are too rich for my poor journalist blood.