Although eager sharers on Facebook and elsewhere have been fooled for years into thinking "today is the day," that Marty and Doc travelled 'Back' to the future in the second film, that date is now only a few days away. Yes the 21st October 2015 is when the pair of intrepid time meddlers ended up in the "future," so no doubt a number of people will be sharing that image once again. But that's not the only celebration. In Rocket League, the developers are patching in a Delorean to show their appreciation for the classic trilogy.
"We used to fantasise and joke about having the DeLorean Time Machine in our game months before it even came out. We were all such huge Back to the Future fans here at Psyonix, that it was one of the few 'Holy Grails' we had hoped for besides having a hit game," the developers said on the PlayStation Blog.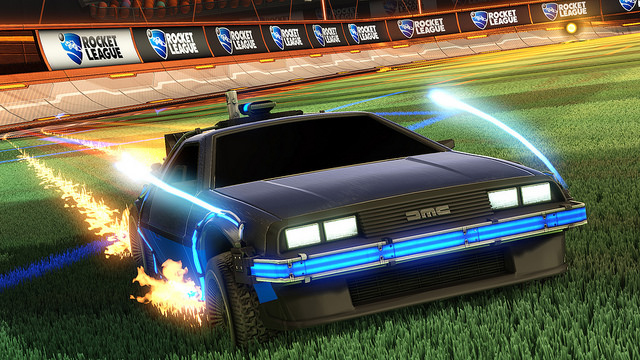 This car isn't quite like any of the others in the game either, as it has some unique visual effects which allow it to really stand out. While all cars have boost trails – the Delorean being no different – it also has trails of fire once it gets up to speed. On top of that, Psonix revealed that when you go for an aerial, the wheels fold away as the car enters jet mode.
[yframe url='http://www.youtube.com/watch?v=MWTGyIwgvZw']
The Delorean is set to go on sale on the iconic 21st October for $2 or likely around £2 in the UK, as part of the "Back to the Future Car Pack," though Psyonix does remind us that the Revenge of the Battle-Cars DLC pack is now on sale too, including more cars, hats and effects.
Discuss on our Facebook page, HERE.
KitGuru Says: The sound effects alone in that trailer get me all excited. I might need to rewatch the trilogy now.